Dir-prod: Pablo Trapero. Argentina. 2010. 107mins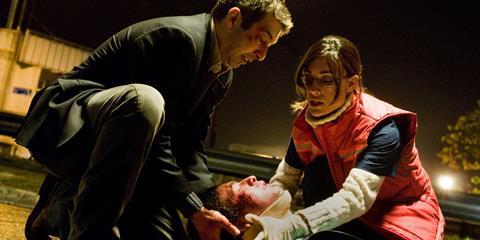 A corrupt society eventually infects even its decent, noble-minded citizens in Carancho, the most commercial film to date from Argentinean director Pablo Trapero whose Lion's Den was in competition at Cannes in 2008. An expertly crafted thriller steeped in the social injustices of Buenos Aires, it combines crisp storytelling with appealingly flawed characters and moments of startling violence.
Shot in cinemascope, Carancho has the look and feel of classic post-War film noir.
A predictability to the fatalistic events may diminish its appeal for some audiences but it has a viability in most markets with the Oscar-winning success of Juan Jose Campanella's The Secret In The Eyes adding to the allure of Ricardo Darin in the lead role.
Opening titles inform us that road accidents have become an epidemic in Argentina. More than eight thousand people die each year and more than 120,000 are injured. It has become a vital part of the economy for unscrupulous lawyers and wary insurance companies plagued by compensation claims. In Buenos Aires, Sosa (Ricardo Darin) is an ambulance-chasing lawyer working for a foundation that oozes concern for grieving families and injured parties whilst plotting to retain the lion's share of any money they receive.
Sosa is the one man in the foundation still troubled by a conscience and desperate to recover his licence and return to the legitimate side of the law. Lujan (Martina Gusman) is a young doctor working all the hours she can to build a career. Her work in the emergency services brings her into constant contact with Sosa and sparks a tentative romance that will be tested to the limits by the consequences of his well-intentioned actions.
Shot in cinemascope, Carancho has the look and feel of classic post-War film noir. Sosa and Lujan inhabit a shadowy, twilight zone of events that happen when the rest of the world is asleep. There is a lemony, neon tone to Julian Apezteguia's cinematography that offers an atmospheric sense of night in the city. If this was 20th Century Fox in the 1950s you might expect to find Richard Widmark and Susan Hayward in the main roles.
The main characters would seem to fulfill the archetypes of a shop-soiled Galahad and an angel of mercy but part of the film's appeal lies in the complexity of the characters and the believability of the performances. Sosa commits all the wrong acts for all the right reasons and Lujan is not as blameless as she first appears.
A tale of moral dilemmas and doomed romance, Carancho keeps you rooting for the central couple to escape their fate that is one of the surest signs of just how involving it becomes.

Production companies: Matanza Cine, Finecut, Patagonik, Ad Vitam L90
International sales: Finecut, 822 569 8777
Co-producers: Youngjoo Suh, Juan Pablo Galli, Alejandro Cacetta, Juan Vera, Alexandra Henochsberg, Gregory Gajos, Arthur Hallereau, Felipe Braun
Screenplay: Alejandro Fadel, Martin Mauregui, Santiago Mitre, Pablo Trapero
Cinematography: Julian Apezteguia
Editors: Ezequiel Borovinsky, Pablo Trapero
Main cast: Ricardo Darin, Martina Gusman, Carlos Webber, Jose Luis Arias, Fabio Ronzano