Dir-scr Abbas Kiarostami. Fr-Ital. 2010. 106mins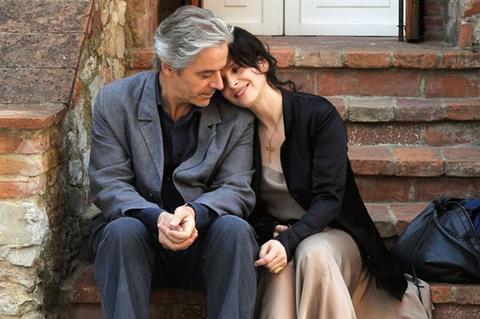 A captivating cinematic divertissement, Certified Copy marries post-modern reality games with mature romantic comedy in a single breezy and thought-provoking package. This is Kiarostami's most commercial film to date - not only because of the presence of a radiant Juliette Binoche or its photogenic Tuscan settings, but because it is the first of the Iranian auteur's metacinematic experiments to conform, at least on one level, to Hollywood genre conventions. The pitch could well be: "imagine a middle-aged Before Sunrise rolled up with Under the Tuscan Sun but spiked with elements of The Game".

Certified Copy will need to be targeted to a slightly different crowd from the hardcore filmbuffs who would generally turn up sight unseen for the latest Kiarostami.
A few boos after the Cannes press screening (presumably from cineastes who feel that Kiarostami has sold out) will not discourage buyers from looking at a title that has good audience genes. But it does indicate that Certified Copy will need to be targeted to a slightly different crowd from the hardcore filmbuffs who would generally turn up sight unseen for the latest Kiarostami. This is also a smartly Euro-friendly title, with its dialogue in Italian, French and English.

It's the "Before Sunrise/Sunset for oldies" chords that carry us through the first half-hour, where audiences will need to be a little patient. Before we realise there's something else going on, this seems to be a gentle, smart, intellectual rom-com with Allen-esque overtones.
It opens at a book presentation in Arezzo, Tuscany, where popular academic author James Miller - played engagingly by operatic baritone William Shimell in his first film role - is giving a talk about his new book, Certified Copy, which questions our ideas of what is 'authentic' in art, and asks why a copy is considered to be inferior to the original (after all, Miller glosses, we're all born by reproduction).

Juliette Binoche's character - she's never given a name - is in the front row at the lecture. Later, in a restaurant, her articulate and mischievous young son, Julien (Moore), asks his mother why she bought six of the author's books for him to sign, and it transpires that she has invited Miller to meet her for a chat the next day. When he does, she suggests a drive to Lucignano, a nearby hilltown.
Here, in what seems to be a gentle and rather wary courtship, the two wander and converse about issues of what is real and what is fake amidst a gaggle of brides and bridegrooms, who have come to Lucignano to be photographed in front of a supposedly miraculous golden tree which guarantees a long and faithful relationship.

There's something that has us guessing already about the relationship - a mixture of awkwardness and knowingness in the way they relate to each other - but its only 45 minutes in, during a deliciously fresh café scene, that we begin to put a new interpretation on what we are watching.
Mirrors are constantly framing side views or details; the Binoche character's crucifix necklace turns out to be a dragonfly; a man (a cameo by veteran screenwriter Jean-Claude Carriere) apparently having an argument with his wife in a pretty piazza turns out, once the perspective shifts, to be shouting at someone on his mobile phone. And in a masterful touch, the eyelines of the couple in their reaction shots come closer and closer to the centre of the lens until they seem almost to be staring straight at us; but not quite.

Binoche is on fine form, suggesting real emotion as the relationship unfolds while keeping the comedy door open. And the occasional stiffness in Shimell's mosly suave and confident performance doesn't jar too much; it fits in with his character's British academic reserve. Once we begin to reflect properly on what we've just seen, rerunning certain key scenes in our head for clues, the director's choice of an actor and a non-actor for the main roles is just one more layer of the film's discourse about the difference between copy and original, play-acting and being for real.
Production companies: MK2, Bibi Film, France 3 Cinema
International sales: MK2, (33) 1 4467 3030
Producers: Marin Karmitz, Nathanael Karmitz, Charles Gillibert, Angelo Barbagallo
Cinematography: Luca Bigazzi
Production designer: Giancarlo Basili, Ludovica Ferrario
Edito: Bahman Kiarostami
Main cast" Juliette Binoche, William Shimell, Adrian Moore