Dir: Mahmoud Kaabour. UAE-Lebanon-Qatar. 2013. 75mins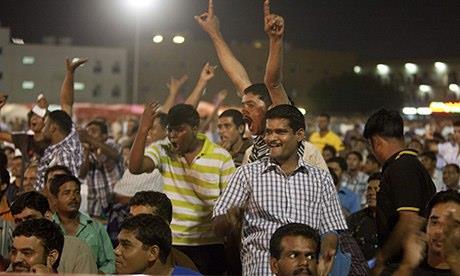 An impressively staged look at the compounds in the UAE that house the substantial migrant worker populations, Champ Of The Camp opts for an unusual take on living conditions by tracks the 2102 Champ of the Camp competition that allows one lucky worker to win a series of prizes.
It could be argued that the competition is rather patronising, but to a man the migrant workers all seem to relish the chance to sing and the love the competition itself.
From 70 camps throughout the UAE a series of talent events are staged which allows the workers to sing and perform with the hope of being crowned champion. The charm of the film comes for much of the time its simply allows these men to sing – favourites or Bollywood classics – and talk often emotionally about the realities of their lives in the UAE. They admit that the conditions are fine but also say it does feel like living in a prison at times.
Right Track Advertising, which organises the event, stages a series of auditions at the camps, finally letting 2000 men have their chance for glory before whittling it down to a final involving just six competitors who have to skills in both Bollywood singing and trivia questions.
Winning the final brings rewards in terms of money and prizes but it also acts as an indicator as just how poor some of the workers are. The camps – all male, no families allowed – contain labourers from countries such a India, Bangladesh and Pakistan who come to the UAE to earn as much as possible to send back to their families.
They introduce the camera to their relatively cramped living conditions – dormitory rooms containing bunk beds; outside taps for washing, frugal cooking facilities – but also claim to be quite happy. Some miss their families terribly, but as middle-aged Indian sweeper Dhattu comments with a smile "we can leave whenever we want".
It could be argued that the competition is rather patronising, but to a man the migrant workers all seem to relish the chance to sing and the love the competition itself. As event organisor Rupa Vinood adds: "Coming back to the camp and singing allows the men to de-stress and deal with their loneliness and make them think about their family back home."
Production companies: Veritas Films, Creative Kettle
Sales contact: Veritas Films, info@veritasfilms.ae
Producer: Eva Sayre
Cinematography: Benjamin Pritchard
Editors: Alan Mackay, Arwa Merchant
Music: Ahmed Ghannoum