After years of huge growth, the Chinese box office plateaued last year.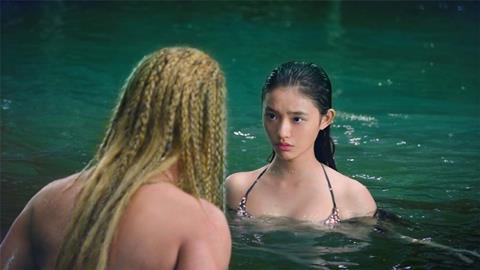 China's box office reached RMB45.7bn ($6.6bn) in 2016, an increase of just 3.7% in local currency terms, according to figures from the State Administration of Press, Publication, Radio, Film and Television (SAPPRFT).
As the Chinese yuan weakened against the US dollar during 2016, the year-end result was actually a decline in dollar terms, with combined box office of $6.6bn in 2016 compared to $6.78bn in 2015.
Until 2016, growth at the Chinese box office had averaged more than 30% annually for several years and in 2015 receipts increased by 48.7% compared to the previous year. The 2016 results make it unlikely that China will overtake the North American box office any time soon.
Imported films grossed $2.7bn (RMB19.06bn) in 2016 – accounting for 41.7% of the market – compared to a combined take of $2.6bn (RMB16.99bn) and a 38.4% market share in 2015. Disney had a good year in China with the high-grossing import, Zootopia, and two other films, Captain America: Civil War and The Jungle Book, in the top ten (see chart below).
Chinese films had a 58.3% market share in 2016, earning $3.8bn (RMB26.7bn), compared to $4.17bn (RMB27.1bn) for a market share of 61.58% at the old exchange rates in 2015.
Stephen Chow's Chinese New Year release The Mermaid was the top grossing local film and retains the record for the highest-grossing film ever at the Chinese box office. While Zhang Yimou's The Great Wall, which opened on December 16, had not entered the top ten by December 31, it has since overtaken The Jungle Book to rank at number ten with a gross of $151.83m by January 2.
Context
According to SAPPRFT figures, China make 772 movies in 2016, of which 43 grossed more than $14m (RMB100m), while the overseas box office of Chinese films increased by 38% to reach $547m (RMB3.8bn). Total admissions reached 1.37 billion in 2016, an increase of 8.9% year-on-year.
SAPPRFT also said that China has become the country with the most film screens in the world, overtaking the US with 9,552 new screens in 2016, for a total of 41,179.
Many reasons have been given for the decline in growth, including China's economic downturn, the end of online ticketing subsidies in the fourth quarter of 2016 and government attempts to crack down on box office fraud. Several companies have been fined over the past year for overstating receipts or arranging ghost screenings to give the illusion of box office success.
Other factors include the lacklustre line-up of local films and the fact that Chinese audiences are price sensitive and learn quickly – they are reluctant to pay an average ticket price of $4.7 (RMB32.9) to watch a bad film.
Speaking to Chinadaily, screenwriter and author Liu Zhenyuan said: "We may have more screens and a bigger market, but we also have more movies that are dumbed down and brainless. Audiences are going through a change. They are less willing to buy tickets to movies with only visual spectacles and all-star casts."
Liu wrote the novel that one of the year's more critically-acclaimed movies, Feng Xiaogang's I Am Not Madame Bovary, was based on. The film grossed $68m and was at the centre of a row between Feng and exhibitor Wanda Cinemas over whether it had been denied access to screens.
2017
As 2017 gets underway, the release slate of imported movies includes Rogue One: A Star Wars Story on January 6 and both Passengers and UK thriller Eye In The Sky on Jan 13.
Chinese New Year, the biggest box office season of the year, kicks off on January 28 with Tsui Hark's Journey To The West, produced by Stephen Chow; Stanley Tong's Kung Fu Yoga, starring Jackie Chan; Buddies In India, a loose sequel to Lost In Thailand directed by and starring Wang Baoqiang; and Han Han's Duckweed, starring Deng Chao and Eddie Peng. Both Kung Fu Yoga and Buddies In India were partly filmed in India and feature Indian cast.
Rowan Atkinson will also be making an appearance on Chinese screens over Chinese New Year in Kai Leung Lai's Top Funny Comedian: The Movie, an adaptation of a popular Chinese variety show, in which he stars alongside local comedians Guo Degang and Yue Yunpeng.
CHINA BOX OFFICE TOP TEN 2016 (Jan 1-Dec 31)
Title (release date) US$
The Mermaid (Feb 8, 2016) $526.8m
Zootopia (March 4) $235.6m
Warcraft (June 8) $220.8m
Captain America: Civil War (May 6) $190.4m
The Monkey King 2 (Feb 8) $185.4m
From Vegas To Macau 3 (Feb 8) $172.1m
Operation Mekong (Sept 30) $170.4m
Kung Fu Panda 3 (Jan 29) $154.3m
Time Raiders (Aug 5) $150.5m
The Jungle Book (April 15) $150.1m
Source: Box Office Mojo