Action-horror rakes in a whopping $93.39m to become the third-biggest opening for a local film.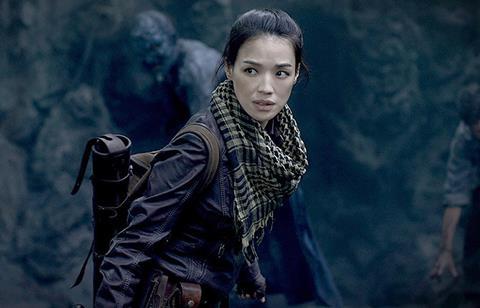 Two local titles dominated at the Chinese box office between December 14-20, with Mojin – The Lost Legend topping the weekly chart with a whopping $93.39m.
Wuershan's Mojin – The Lost Legend (previously known as The Ghouls) delivered a stellar opening of $93.39m, making it the third biggest three-day opening of all time for a local film, behind Lost in Hong Kong and Monster Hunt.
The new 3D film, which was also screened on more than 250 IMAX screens in its opening weekend, has smashed a record held by Monster Hunt to become the largest three-day opening weekend ($7.5m) for a Chinese film in IMAX.
Like Lu Chuan's Chronicles Of The Ghostly Tribe, which was released during the National Day week in October, Mojin – The Lost Legend is based on bestselling novel series Ghost Blows Out The Light.
The story follows three retired grave robbers, the Mojin, whose loyalty and life are put to the ultimate test as they return to their roots and raid the mysterious dungeons and treasures of the 'deep abyss'.
The A-list cast includes Chen Kun, Huang Bo, Shu Qi and Angelababy.
After breaking the box office record for previews two weekends ago, Surprise – Journey To The West debuted in second place with $23.50m in its first three days. Based on the web series created by director Yi Xiaoxing, the local period fantasy comedy had a cume of $41.07m.
When combined, Mojin – The Lost Legend and Surprise – Journey To The West accounted for 80.75% of last week's total box office.
Down in a distant third and fourth place were former frame champions Point Break, which took $7.14m for $37.90m after 17 days and The Martian, which added $3.66m for $91.45m after 26 days.
They are followed by The Master with $3.19m for $8.23m after 11 days; Impossible with $2.17m for $17.39m after 17 days; and Fall In Love Like A Star with $2.02m for $24.84m after 18 days.
Our Times, which has already become the biggest Taiwanese film in China, placed in ninth and added $1.30m for $56.18m after 32 days.
Both local love drama Forever Love and Ron Howard's F1 sports-drama Rush entered the weekly top ten chart for the first time in their second week, ranking eighth and tenth, respectively. Forever Love took $1.93m for $3.3m after 10 days. Rush, which opened in China two years after the US, took $1.25m for $3.02m after 10 days.
The year-end Chinese box office marks a very lucrative period for homegrown films which benefit greatly from the blackout of new Hollywood studio films. Local fare Devil And Angel and Mr Six will join the fray when they hit cinemas on December 24.