Dir. Atom Egoyan. France/Canada. 2009. 99 mins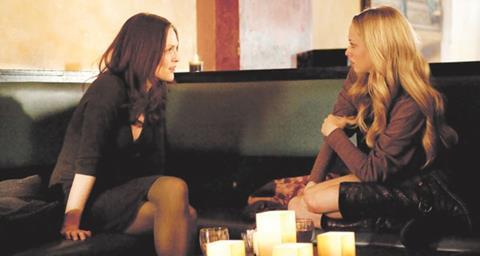 The combination of sex, lies and a linear narrative could potentially provide Atom Egoyan with his most commercially viable venture in some time. Unfortunately, however, the slow-burning Chloe is neither fish nor fowl. Long-term Egoyan admirers will detect echoes of Exotica and The Adjuster in this tale of twisted desire and the manipulation of trust, but are bound to feel disappointed when it descends into all too predictable Fatal Attraction territory. A more general audience might well consider it too high falutin' for their tastes, though, leaving a potential distributor with the headache of how to define the potential market for the film and whether to go arthouse or mainstream.
The film sometimes has a fairytale air, and characters feel as if they are puppets being manipulated by unseen hands
Egoyan's reputation and the extensive use of upmarket Toronto locations should make Chloe very marketable in Canada. International distributors are more likely to look to the stars to provide their hard sell.
An unrecognisable reworking of Anne Fontaine's 2003 drama Nathalie by Secretary screenwriter Erin Cressida Wilson, Chloe tries to combine Hitchcockian suspense with an element of overwrought sexual fantasy more in keeping with the soft-core offerings of Jean-Claude Brisseau (Exterminating Angels etc).
Julianne Moore stars as Catherine, a gynaecologist who suspects that her husband David (Liam Neeson) is having an affair. She seems to live in a hormonal world where everyone is having sex apart from her. Even their teenage son Michael (Max Thieriot) is blatantly inviting his girlfriend to stay the night.
Catherine becomes a woman unhinged by a jealousy that is only exacerbated by middle-aged insecurity. In order to test David's loyalty she hires escort Chloe (Amanda Seyfried) to seduce him. Chloe is only too happy to provide her with graphic details of their illicit encounters, something that Catherine finds both distressing and arousing.
In their early stages of the story, Egoyan does flavour the film with a sense of intrigue and mystery that Hitchcock brought to such late career masterpieces as Vertigo and Marnie. The comparison is underlined by the lush, Bernard Herrman-style score from Mychael Danna. There is also an air of unreality to events that will alert many viewers to the fact that we are being led up the garden path.
Chloe's vivid descriptions sound more like something from a novel than real life, and Catherine never seems to question the fact that David's actions seems entirely out of character for a man she has known and loved for some twenty years. It is all too easy to keep several steps ahead of the film's major twist.
The film is at its most interesting in the way it tries to confront the issue of trust between a long-established couple and how a romance can possibly retain its spark long after the initial heat has faded towards a cosy contentment.
Catherine is easily the most nuanced and believable character in the way her common sense is undermined by the way her husband flirts with other woman and her worries over her fading beauty - the latter element particularly ironic given how stunning Moore looks. Sadly, all of these intriguing notions are mostly subtext and are all eclipsed once the film serves up the kind of twists that have become psycho thriller cliches.
The film sometimes has a fairytale air, and characters feel as if they are puppets being manipulated by unseen hands rather than believable human beings. Given the ambiguity surrounding their actions and intentions neither Liam Neeson nor Amanda Seyfried have a great deal to work with, and the very nature of the scenario means that Neeson's character is often consigned to the sidelines.
Moore is the one left to impress, using her commanding screen presence to give her character some emotional depth and lend the story much needed credibility.
To sign up for Screen's weekly Reviews Newsletter with all the week's new releases, internationalopenings and full festival reviews delivered free to your mailbox every Friday, please click HERE
Production company
Montecito Picture Company
International sales
StudioCanal
+ 33 1 7135 0857
Producers
Ivan Reitman
Joe Medjuck
Jeffrey Clifford
Screenplay
Erin Cressida Wilson based on the film Nathalie, by Anne Fontaine
Cinematography
Paul Sarossy
Production design
Philip Barker
Editor
Susan Shipton
Music
Mychael Danna
Main cast
Liam Neeson
Julianne Moore
Amanda Seyfried
Max Thieriot
Meghan Heffern