AMPAS celebrated the extraordinary career of cinematographer and director Chris Menges on Friday night at London's Soho Hotel.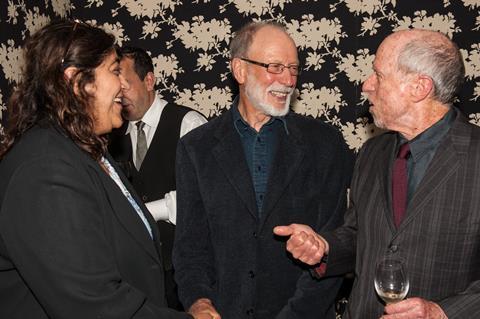 The AMPAS event was attended by the cinematographers' friends and collaborators, including Stephen Frears, Stephen Daldry, Norma Heyman, David Hare, Peter Lamont and Stuart Craig.
The two-time Oscar-winning cinematographer, in conversation with director Michael Apted, discussed his wide-ranging career and exciting collaborations with the likes of Ken Loach [with whom he has made 14 films], Neil Jordan, Frears and Daldry.
"As a DP you have to listen and absorb," Menges told a rapt audience. "I express myself through lenses, cameras, light, movement and blocking."
Menges cited the Italian neo-realists, Milos Forman and Miroslav Ondricek as early influences on his career, which has adeptly moved between documentary, TV and feature work.
Documentary, in particular, has played a pivotal role in shaping Menges' creative outlook: "Through documentary you learn about catching the moment and catching sound," he said. "You learn that pictures are worthless without the sound and dialogue that goes with them. Christian Wangler, Ivan Sharrock and I learnt how to catch words, which is so important."
"But documentary also teaches how to observe, how to stand back and about the power of natural light and deep emotion," he continued. "If you can catch truth to any degree it's the most powerful thing you can do. It's so rare in cinema to catch that depth. Those who have worked in documentary are incredibly enriched."
Apted asked Menges how he chooses a project: "It starts with the word, with the writing. You ask yourself 'does it move you?' It starts with a film's heart. I couldn't work on something I didn't believe in, something I wasn't passionate about."
Menges' work on ITV's investigative series The World in Action informed his decision to work on The Killing Fields: "Through World in Action I had been in Zanzibar and I had also been in Burma and Vietnam. The film seemed right to me, Roland had done some wonderful work with the BBC beforehand. The performances, the screenplay and all the elements were very powerful. Everyone working on the film knew that this was the film."
"But then again, perhaps I should have stayed to work with Stephen Frears [whom he described as like a brother] on My Beautiful Launderette - he never forgave me for that," he added with a rueful smile.
Despite his refreshing modesty Menges was still full of delicious stories from his wonderful career, including how he shot surreptitious footage of passers-by during Kes, when "grumpy, good old soul" Tommy Lee Jones cooked for him for two and half months before The Three Burials of Melquiades Estrada, how the production of The Pledge went "a little crazy", the time Stephen Frears asked him to fire himself after a creative disagreement on Dirty Pretty Things and how David Puttnam had to convince him to attend the Academy Awards for The Mission in 1986 after he had declined an invitation two years earlier for The Killing Fields.
As for next projects, Menges will remain true to the philsophy that has kept him in such good stead until now: "I just patiently wait. I'll be in my house in Wales, waiting for the right script. If the right script came along I would die for it."