Jean Noh on Tokyo International Film Festival's Special Night, which included a kabuki performance and Chaplin's City Lights.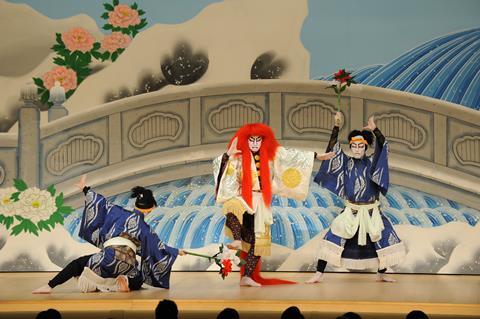 One thing's for sure: there's got to be something wrong with you if you can't enjoy Charlie Chaplin's City Lights.
Maybe you had some bad food, or you left your glasses at home, or you're under major stress from work on your smartphone in the theatre right when the classic bittersweet comedy is playing onscreen, in which case, you should indeed get the hell out.
I did see a few people in the orchestra seat section leave during the film on the Special Night at Kabukiza Theatre presented by Tokyo International Film Festival (TIFF) 2014 on Oct 27. I assume there was something wrong with them.
It certainly shouldn't have been the length of the Night. According to festival muse Miki Nakatani, who inched onstage in traditional wooden slippers and a black kimono with gold and white detailing early on in the evening, a four-hour kabuki performance is nothing out of the ordinary, especially if you are enjoying a bento (Japanese lunchbox) during the proceedings.
One of the great things about the historic Kabukiza Theatre is that the concessions include bento, sake, tea, and ice cream among many other things. It also has a little mock marketplace in its depths selling arts and crafts and teas and confections.
Situated in the upscale neighborhood of Ginza, Kabukiza Theatre was originally established in 1899. It has been through wars, earthquakes, rebuilding and renovations - the last of which was completed last year.
Coincidentally, 1899 was the year Chaplin was born, as the emcee noted in the many drawings of connections between Chaplin, City Lights, Japan, and Kabukiza that night. Chaplin reportedly came several times to the country and on one visit, 40,000 people welcomed him at Ueno Station. He loved Japan and was a fan of kabuki. He also loved sticks made in Shiga Prefecture, showing he "knew Japan was cool early on".
This was an allusion to the "Cool Japan" initiative TIFF and the Japanese government were pushing throughout the festival's events, whether at the opening ceremony or the Japan Foundation's reception or special events like the Kabukiza Night. I can't think of another film festival in the world I've been to where everyone involved was so 'on message' about a national initiative. (And yes, I've been attending fests for more than a decade and a half now.)
Serendipitously, they also got some help from the US with the launch of Disney animation Big Hero 6 as the opening film, its makers professing love of influences from Japan and Japanese animation. Disney chief creative officer (CCO) John Lasseter even gave a heartfelt talk on "Cool Japan" [see separate story here].
Before the screening of City Lights, we were treated to a kabuki dance by Ichikawa Somegoro, whose great-grandfather Matsumoto Koshiro VII, also a kabuki performer, was photographed with Chaplin at the Kabukiza in 1936.
Somegoro explained that his 'Shakkyo (Stone Bridge)' performance was a quintessential type of kabuki based on a mythological lion-like animal with the bridge connecting the real world to the spirit world.
"In the end, it snows onstage and I swirl my mane in the snow. Kabuki is meant to erase and cleanse the evil spirits," he said, adding he wanted to show "the power of human performance" in contrast to the exactness of film that night.
He had on dramatic black and white make-up, and watching him swing that long, large red mane around and around made me think maybe those Japanese heavy metal headbangers of the 80s and 90s weren't so out-of-nowhere, but part of a longer tradition. "Cool Japan"?