Dirs: Cody Cameron and Kris Pearn. US. 2013. 95mins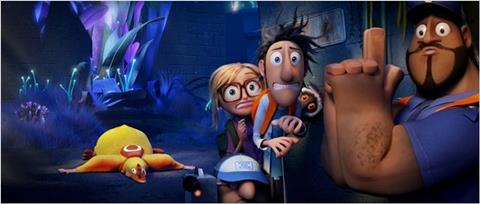 An indefatigable, forward-leaning concoction, Cloudy With A Chance of Meatballs 2 breathlessly mimics the adolescent playtime, anything-goes sensibility of its predecessor, but can't recapture the essential magic of 2009's inventive children's book adaptation, one of the more purely enjoyable animated films of the past five years.
Hader and especially Faris have great comic timing and a nice rapport. Samberg is given less to do this go-round, but still pulls off his himbo with aplomb.
The original Cloudy raked in a $243 million cumulative haul, split almost evenly between Stateside and international returns. The sequel arrives in theaters at a time traditionally somewhat slow for family films, but distributor Sony had a winner in the last weekend of September last year with Hotel Transylvania, which rode a $42 million opening weekend to a domestic gross of just under $150 million and a worldwide box office take of $347 million. Topping that will be a tall order, but opening on over 3,800 screens — the most of any movie all month — will allow Cloudy 2 to dominate fellow wide releasers Baggage Claim and Don Jon, and capitalise on the considerable goodwill of the property.
Picking up literally minutes after the conclusion of the first movie, Cloudy 2 dashes through an eight-minute recap/opening in which Live Corp CEO Chester V (Will Forte), the scientist idol of young inventor Flint Lockwood (Bill Hader), shows up and announces a plan to relocate everyone from the island town of Swallow Falls to San Franjose, California, in order to tackle a comprehensive clean-up of their burgh.
Unbeknownst to Flint, however, his invention which caused so much havoc in the first movie — a machine which turned water into food, causing cheeseburger rain and spaghetti tornadoes — isn't actually destroyed, and is in fact now creating food animals. Also unbeknownst to him, Chester V has dastardly plans to harness the device's power for his own gain. When Chester's plans hit a snag, he dispatches the naïve Flint back to Swallow Falls to find the machine.
Along for the ride are Flint's widowed father Tim (James Caan), his pet monkey Steve (Neil Patrick Harris), meteorologist/love interest Sam Sparks (Anna Faris), Sam's cameraman Manny (Benjamin Bratt), former bully turned friend Brent (Andy Samberg), and excitable Swallow Falls cop Earl Devereaux (Terry Crews, replacing Mr. T).
Directors Cody Cameron and Kris Pearn take over for originating helmers Phil Lord and Christopher Miller, who each take executive producer and story credits, and while Cloudy 2 is undeniably the product of massive collaboration (it's even billed as "another film by a lot of people" in a pre-title card), Lord and Miller's unifying touch and oversight is sorely missed.
There's a serviceable framework to the narrative, but almost everything stands in diminished contrast to the first film. The screenplay, by Erica Rivinoja and John Francis Daley & Jonathan Goldstein (Horrible Bosses), offers up food puns aplenty ("There's a leek in the boat"), but abandons too quickly a promising pinch of corporate satire when the wide-eyed Flint is given a job at Live Corp. With much of the father-son emotional distance and romantic tension of the first film abated, and not enough new characters of consequence to spice things up, this tale just feels like a minor-chord retread.
Small touches seem weird and off as well. Given that the first film established Flint's backstory so painstakingly, it seems strange to only now introduce a character that was the putative inspiration for his entire interest in science. Other amusing character traits (Tim's technophobia, Steve's issues with gummy bears) are discarded too.
Tonally, what seemed lively and fun in the first film here often comes across as simply more frenetic. Cloudy With A Chance of Meatballs indulged in slapstick aplenty, but also utilised slow-motion, and held poses or framed shots for comedic effect. With few exceptions, Cloudy 2 is go-go-go.
The animation itself, though, is fairly engaging throughout, informed by a sense of fluidity and hard stops that — especially with regards to Chester V, Earl and Flint — recalls bendable and posable children's toys of pre-digital days gone by.
Several charming vocal performances also help pass the time more easily. Hader and especially Faris have great comic timing and a nice rapport. Samberg is given less to do this go-round, but still pulls off his himbo with aplomb. It's Forte who steals the show, however, with a merrily deranged character who seems equal parts Mad Hatter, Steve Jobs and James Bond villain.
Production companies: Columbia Pictures, Sony Pictures Animation
Domestic distribution: Sony Pictures
Producers: Pam Marsden, Kirk Bodyfelt
Executive producers: Phil Lord, Christopher Miller
Co-producer: Chris Juen
Screenplay: Erica Rivinoja and John Francis Daley & Jonathan Goldstein, based on a story by Phil Lord & Christopher Miller and Erica Rivinoja, inspired by the book Cloudy With a Chance of Meatballs, written by Judi Barrett and illustrated by Ron Barrett
Editor: Robert Fisher, Jr.
Production designer: Justin K. Thompson
Music: Mark Mothersbaugh
Visual effects supervisor: Peter G. Travers
Website: www.CloudyWithaChanceofMeatballs.com
Main voice cast: Bill Hader, Anna Faris, Will Forte, Andy Samberg, Terry Crews, James Caan, Benjamin Bratt, Neil Patrick Harris, Kristen Schaal, Cody Cameron, Melissa Sturm, Kris Pearn