Dir: Dilip Ghosh. India. 2013. 124mins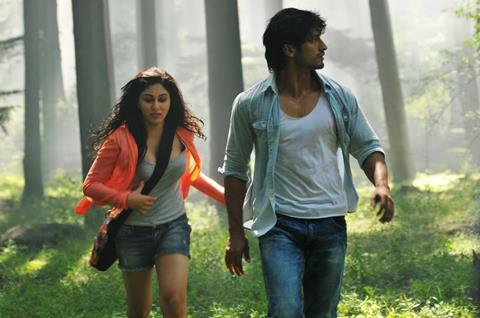 Muscular Hindi action adventure Commando: One Man Army is a pure example of 'it delivers what it says on the tin' cinema…supremely ripped action hunk Vidyut Jamwal is a one-man fighting machine who thinks nothing of dealing with hordes of villainous bad-guys before breakfast, and then settling down for a few hundred press-ups as well as romancing his leading lady.
There may be romance in the air, but for Commando: One Man Army is about the killings and not the kisses.
Extremely silly, but rather enjoyable, Commando: One Man Army opened in India earlier this year to strong numbers (it took $1.9million over its opening weekend), and had its North American premiere at Montreal's Fantasia Film Festival. A sequel is already being planned.
As can be expected from such a Bollywood romp, the all-action tale is also punctuated with a few nicely staged song and dance numbers, and while these show off the talents of beautiful co-star Pooja Chopra they really only detract from the action (and make the film too long when it should be pacier), with steely-jawed Jamwal looking far more at ease handling the stunts than the dance moves.
Karan (Jamwal) is a commando with the 9 Para Commandos of the Indian Army. His helicopter crashes on the Chinese border and he is held and tortured as a spy. Eventually escaping – he is a 'one man army' after all – he crosses into Himachal Pradesh at the Lepcha border and travels through Kinnaur to try and reach his base at Pathankot.
As he crosses the Himachal-Punjab border he meets Simrit (Chopra) who is trying to escape goons in the employ of corrupt local MP Amrit Kanwal Singh (Jaideep Ahlawat) – aka AK-74 – who wants to marry her to further his political career (ah, that old gambit!).
Naturally enough Karan agrees to help her, with the pair eventually disappearing into dense woods, giving him a chance to work on his cunning guerilla warfare to take on AK-74's men as they flood into the forest to search for them.
It is all pretty predictable fare, and while the fight scenes are many and familiar, they are really there as a platform for the muscular fighting machine to show off his moves. And there is no denying that Jamwal (a skilled practitioner of Kalarippayattu a south Indian martial art practiced mainly in Kerala) is impressive - a disclaimer at the start of the film tells claims he has done all the stunts, barring a few scenes in the end – and while he needs to work on a little more facial movement, he looks the part and the camera does love him.
Jaideep Ahlawat - who had a key role in Gangs Of Wasseypur - chews the scenery to good effect as the villainous AK-74, and while Pooja Chopra is given little to do but wear shorts and look admiringly at her protector she at least plays her role with an engaging feistiness. There may be romance in the air, but for Commando: One Man Army is about the killings and not the kisses.
Production company: Reliance Entertainment, Sunshine Pictures, Cinema Capital Venture Fund
Contact: Reliance Entertainment, www.relianceentertainment.net
Producer: Vipul Shah
Screenplay: Ritesh Shah
Cinematography: Sejal Shah
Editor: Amitabh Shukla
Music: Mannan Shaah, Prasad Sasthe
Main cast: Vidyut Jamwal, Pooja Chopra, Jaideep Ahlawat, Jagat Rawat, Darshan Jariwala