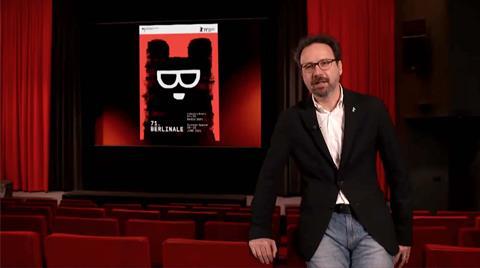 "Apprehension" was the word used by artistic director Carlo Chatrian to describe the mood of the films at the Berlinale 2021. Given the precarious state of the world this pandemic midwinter, that's possibly the best we could expect as he announced the titles under the gaze of the festival's stern, bespectacled black bear. (Last year was themed 'heart of darkness', so 'apprehension' feels like a step up).
But there was a sense of resilience as well. Chatrian and his co-chief, the festival's managing director Mariette Rissenbeek, have responded to lockdown constraints with their second selection planted firmly in the European arthouse. It will screen to the industry and press online in the first week of March, and the public in June, and its final elements were announced yesterday – Competition, and the cinematic lucky dip that is Berlinale Special.
It's true that Chatrian, Rissenbeek, directors, audiences and the film industry itself might have wished for another outcome. But the fact that the independent film business can turn out a Sundance and a Berlinale in rapid succession with only two crossover titles has to be a vindication of an industry which came to a crashing halt almost a year ago.
Of course, the films themselves have yet to be seen. In the 15-picture Competition announced by Chatrian, the biggest, and most welcome, surprise was a new film by Celine Sciamma. Petite Maman, a rites-of-passage story by the trailblazing French director who was last in Berlin with Tomboy in 2011, and only went into production in November. Possibly the least surprising element was the appearance of a Hong Sang-soo title, Introduction, partly shot in Germany's capital city. It's always good to note though that in hard times there are some things you can rely on.
By necessity, the number of titles is down across all of the Berlinale's sections; female representation in Competition holds static at 33 percent (either directed or co-directed). And with two debut films, Chatrian's line-up does look fresh, and, for now, intriguingly niche. Those films with the widest immediate appeal are by Sciamma, Xavier Beauvois's Albatross, with Jeremie Renier and Bad Luck Banging from the Silver Bear- winner Radu Jude. There's also a Netflix title competing, the Mexico City-set documentary A Police Film from Alonso Ruizpalacios, the first title from the streamer to appear at a festival since the pandemic hit and one of two documentaries in Competition.
Unorthodox director Maria Schrader brings I'm Your Man, with Sandra Huller and Dan Stevens, to play, while Daniel Bruhl, also an actor and now a director, will show his debut Next Door. These accessible titles will undoubtedly be of interest to buyers attending the online, reimagined European Film Market (EFM). The section's other debut Natural Light by Denis Nagy, is one of the more intriguing titles of the Competition, alongside Forest – I See You Everywhere, from Bence Fliegauf, a follow-up to Forest almost two decades on; also, What Do We See When We Look At The Sky, from Georgia, even at 150 minutes.
Outside the more classically austere no-concession Competition, the 15-title Berlinale Special section holds the festival's bid for wider appeal with titles including the awards-fancied The Mauritanian and the Michelle Pfeiffer black comedy French Exit, which closed New York last year. Special also holds two new, anticipated German titles from Christian Schwochow (Je Suis Karl) and Tides, a futuristic sci-fi picked up by Saban for the US from Constantin late last year (via Mister Smith) and starring Nora Arnezeder, Iain Glen, and Sope Dirisu. There's the gritty Hong Kong action thriller Limbo, from Soi Cheang, who made 2009's razor-sharp Accident. And there's another surprise film, the Natalie Morales/Jay Duplass collaboration Language Lessons, which will also play SXSW (another festival with not as many crossover titles with Berlin/Sundance as one might have imagined). Morales directs, co-stars and co-wrote with Duplass, who also produced.
Notable absences from here must include the well-received features from Sundance's successful late January run (bar the UK horror Censor and Human Factors, from Germany, both of which screen in Panorama). This can be read as encouraging - there are more than enough titles to go around a year after the pandemic first started to close productions, which is a great relief. It could also be true that titles weren't available to Chatrian and his team and may be looking to Cannes, which is late enough this year to bleed into an awards run. The argument can also be made that with his Encounters section showcasing 12 radical new film-makers the Competition had room to have been more ostensibly commercial, but that's a judgement to be made after they screen, not now.
Ultimately, the industry take-away here is relief. We may be living in an online world, for now, and parts of the line-up are a little daunting in that space. But Chatrian and Rissenbeck and their team are putting on a show. The wheel is very definitely turning again in the independent sector. The EFM may even see it putting on some speed, whether the Competition finds favour or not.