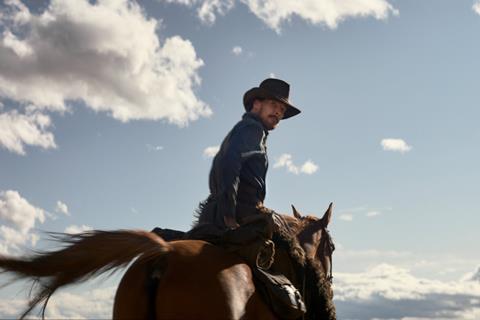 While the industry acknowledges that surviving Covid-19 is a marathon, there are clearly some elements that have moved away from the pack mid-race, and one of these is the Venice Film Festival.
Under Alberto Barbera it had already shifted itself away from being an expensive pre-Toronto outing for art films into a glittery global awards curtain-raiser. Now in its second Covid-19 iteration, increased crowds over last year's more tentative affair have predictably resulted in some queues and ticketing problems, yet it has grown again in stature. Thus far it has been both very safe (vaccination scans, 50% occupancy, the red carpet is still shielded off) and very, very good.
Venice is clearly front-loaded – but what a front. Boats have delivered movie stars to the Lido on an express schedule since the festival opened on September 1 with Pedro Almodovar's Parallel Mothers, but it has been more than (shielded) glamour and glitz: film after film has delivered. Venice has given audiences what they clearly crave: clean, glittering cinema, thorny issues, big performances, no masks. Not a single one of the headline pictures thus far has been set in or dealt with the pandemic.
There was no room on the first weekend for also-rans or padding. Every film deserved its place. Most had already secured wide distribution, and, to understate the situation, that marketplace is challenging. The first question will be where and when these films land, given the global backlog in releasing. That leads to the second question: awards. Which will get the boost into the race? Is there a best picture in here like last year's Nomadland? At the very least, there's an entire foreign language category, and more besides.
Foreign language: the question here is how willing awards bodies will be to acknowledge some excellent films outside of this category. Paolo Sorrentino's highly personal memoir The Hand Of God, for example, will clearly figure strongly in the international feature category should Italy select it, the only question being whether this Naples-set beauty can score for Sorrentino in directing. The same question goes for Almodovar's intensely moving Parallel Mothers from Spain, which features a deeply layered performance from Penelope Cruz. Another Spanish-Argentinian film, the comedic Official Competition, will go over well, and features a supremely eye-catching performance from Antonio Banderas, who many felt should have won Best Actor for Almodovar's Pain And Glory.
Picture and performances: Jane Campion's gripping, dark drama The Power Of The Dog sees Benedict Cumberbatch immediately join the best actor race, and film should also campaign in all categories: director for Jane Campion, screenplay, technical and supporting categories for Kodi Smit-McPhee and Kirsten Dunst. An outlier here would be Paul Schrader's The Card Counter.
Pablo Larrain's Spencer fields a clear contender in Kristen Stewart for her performance as Princess Diana, although the film's rapturous reviews from Venice may prove to over-promise on what is an idiosyncratic film. She's a staple of the awards circuit, but that won't stop Olivia Colman immediately entering the race for Maggie Gyllenhaal's The Lost Daughter, and the first-time director should draw nods for her work on this satisfyingly knotty and intelligent piece. Ana Lily Amirpour's Mona Lisa And The Blood Moon is a smaller-scale work than its Competition slot might have promised, but Kate Hudson does excellent work as a New Orleans stripper and if the film is pushed, she could easily emerge.
Technical: Dune, in every category, but Hans Zimmer should be polishing his acceptance speech, proving with his score that he should never be underestimated.
Baftas: Edgar Wright's Last Night In Soho is a messed-up riot of a ride, and Anya Taylor-Joy in particular is a knockout. Harry Wootliff's True Things is an innovative, dizzying trip through obsession with clear awards potential for Ruth Wilson and Tom Burke. Wilson could break out further if the film sells well for The Bureau.
Aside from awards, however, there are films and performances in smaller sections that will emerge over the coming months and the key theme of Venice's first weekend has been a procession of female-centred films with challenging characters and fully-realised performances. Penelope Cruz, Olivia Colman, Kristen Stewart, and Ruth Wilson have delivered some of the more attention-grabbing portrayals of 'difficult women', but there are smaller films too – the brilliant Isabelle Huppert as a compromised mayor in Promises (a double act with Reda Kateb); Laure Calamy's dazzling take on a frazzled single mother in the gripping Full Time surely won't go unrecognised; Virginie Efira's double life in Madeline Collins; and, finally, Anamaria Vartolomei in Audrey Diwan's Happening, playing a desperate young girl in 1960s Angouleme in search of an abortion. It's a clinical film, yet her performance is anything but.

Screen International's chief critic and reviews editor