Ahead of Sunday's 68th Emmy Awards, The UK's Consul-General in Los Angeles Chris O'Connor reflects on the strength of the special relationship as Brexit looms.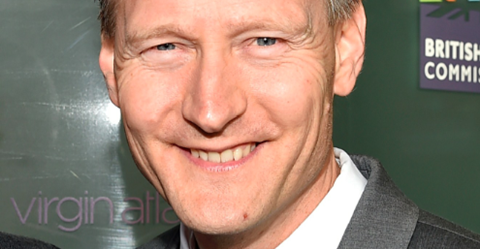 In the TV industry, as elsewhere, people are asking what Brexit will mean for them, and for the UK's approach to international partnerships in television.
The first part of the answer is that there is a great deal that will not change. The UK has over recent years been extraordinarily successful in television. The plethora of UK talent, outstanding production facilities, breathtaking locations and production-friendly tax environment drove over $1bn in UK economic activity in high-end TV alone.
And much of the success comes from US-UK partnerships. Together, Brits and Americans have made some of the most memorable television in the 21st century. Joint collaborations have created landmark series including Game Of Thrones, Outlander and The Night Manager, which have taken global audiences by storm.
American adaptations of British shows, such as House Of Cards, find footholds on both sides of the Atlantic while dry British humour underpins US programmes such as Veep and Last Week Tonight. And British exports like Downton Abbey have left an indelible mark across America and around the world.
Two of the most innovative US powerhouses in television – Netflix and HBO – owe much success to their connections to the UK.
HBO attracted a Dothraki horde of viewers and Emmy awards by committing to season production budgets that rival studio films (and superb film sets in Northern Ireland). Netflix won accolades and subscribers by adapting a drama about British parliamentarians that redefined binge-watching.
Adding up all the productions involving combined British-American teams, I count an astounding 126 nominations at this year's Emmys.
No member state has ever left the EU, so the decision is unprecedented. And the departure of the world's fifth biggest economy will represent a real change in the international architecture.
Our special relationship has been a testament to our ability to nimbly respond to great changes. And the world of television is one where nimbleness counts.
Like all creative endeavours, the television industry is not one that stands still. A recent trend, pioneered by the BBC, is for shorter productions like Emmy-nominated The Night Manager, Luther, and Sherlock. Their limited run is tailor-made, or "bespoke" as we Brits say, for today's binge-watching audiences. They are also attractive to Emmy-nominated stars like Tom Hiddleston, Idris Elba, and Benedict Cumberbatch for their shorter filming schedules.
As the UK prepares to exit the EU, we are also preparing to seize the opportunity of greater flexibility to harness innovation and build international partnerships.
Our commitment to the television industry, our love of storytelling, and our instinct for creativity will carry on. Our special relationship will continue to thrive – and we will be an even more dynamic partner for the US.
Chris O'Connor is Consul-General for the United Kingdom Consulate in Los Angeles. In addition to providing aid to British citizens, the Consulate houses the Department for International Trade, which nurtures US-UK business relationships through technical assistance, and the British Film Commission, which assists the US television and film industry with productions in the UK.