Secret Cinema founder Fabien Riggall's speech at the Toronto International Film Festival, in which he revealed details of 'Secret Space and discussed analog vs digital.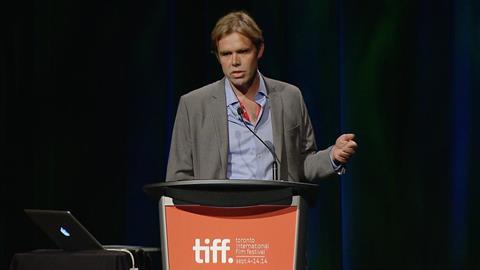 Introduction
'Can I just have everybody stand up for a minute. Turn to somebody you don't know and introduce yourself. Ok, and now we're going to move on.
We attempt to do this in every single screening we do….it's about coming together and discussing the future of cinema. Secret Cinema is an immersive experience, and we take films and bring them to life, in a hyper-social, communal area.
I see cinema as something that has the ability to change the world, allow a dialogue to happen, that the current environment in which films are screened is not conducive to what I think could be a cultural revolution, and we talk about revolution in terms of what is going on in the world and I think that cinema and culture have a massive part to play.
I am going to show you a little film for an outline of what we have been doing for the last few years (SC Press Trailer).
As you can see, we've gone from doing 1 screening with 400 people to our last screening with 85K people. And what this shows is the thirst, this desire above all to come together. A lot of the conferences have been about 'eventising' and how you make the audience come to the cinema and this is a testament to it.
The Beginnings of Secret Cinema
We started as a film festival, and I used to come to festivals to Cannes, to Berlin, to TIFF and as a filmmaker, I found it very difficult to access the films I was watching there. Future Shorts was born out of the idea of creating a network of film festivals around the world, the idea to combine a festival with a live music club, so we get bands and DJs to play after the screening. One of our partners from Greece is here (Vassilis), and the idea is to create a cultural network around the world through short films. We screen anywhere, where you can assemble a community to watch the film. From basements to music festivals, including Hot Tub Cinema.
After Future Shorts, we created Future Cinema, recently rebranded as Secret Cinema Presents. (Slide showing event videos/images). We also started to experiments with live scores to classic films, working with the Guillemots, we did Black Cat White Cat and just grew this idea. It was not about the vision that I had and my team, but it was about the vision that the audience had about another way of experiencing film. The success of our projects has shown that this is really culturally ready and the last production was The Grand Budapest Hotel, which we started doing new films. The way I see it is that you have a format in which you can experience the film, you can live the film, and it would sit alongside a traditional release.
Secret Music
We set up Secret Music, in the same way we bring films to life, we also bring music to life. I was frustrated with the idea that you go into a space, and there would be an hour wait before the band comes on, and then all the mobile phones would be filming every single part of it. So you are watching the concert through someone else's phone. So we take the idea of music, and turn it into a cinematic experience. More about this later.
The future is not about releasing films, it's about releasing experiences and if you make a film, you should have a soundtrack, and you should have other elements in volved.
Secret Cinema
Secret Cinema was the idea that, if we can create these experiences around Future Cinema, how about not revealing anything, and play with the idea of the mystery, no one is sure what is going to happen. And I always come back to this quote (Roald Dahl), and that the world has lost a little bit of that mystery, that romance that adventure. Maybe with the rise of digital culture, we become more and more disconnected, that by creating these experiences, people are coming together. The films we do are films that we feel are important to the real world.
Analog vs. Digital
Analog is beautiful and romantic – there is this fight against this growing dominance of culture
(Poster) In a culture dominated by advertising, it is frightening to see that we are not actually looking any more at what we are being sold. Having come back from LA, I met a lot of the marketeers, who spend a lot of money on marketing films, when no one is actually looking at the billboards anymore.
The other thing that's really important to me is the sense of community. Cinema used to be the place where you went to meet your local community. You'd go for an experience, and you'd dress up.
The other thing I wanted to talk about is the way we curate. (Slide: One Flew Over the Cuckoo's Nest). This is something we did in partnership with a mental health charity where we took over an old hospital. The audience was sent their ticket with a mental health check, and through these tests we worked out what their mental health levels were, what they felt about mental health and what their feelings were. When they arrived at the hospital, they became patients, and instead of just watching One Flew Over the Cockoo's Nest, it was looking deep down at truth behind it.
Case Studies
(Slide: Battle of Algiers) This is Battle of Algiers, which we did during the Aram Spring, and it's one of my favourite films, a film that 90% of our audience had not experience. It really resonated with our audience, and allowed them to think about it.
(Slide: The Shawshank Redemption) This is Shawshank Redemption, which we did in partnership with Amnesty International, where we took real life cases of people incarcerated unjustly. The audience went to a court where they were summoned and tried for a crime they did not commit, and then sent in blacked out buses to an abandoned school, which we turned into a prison, where we then locked them up for 7 hours.
(Slide: La Haine) This was Mathieu Kassovitz La Haine, which we staged a year after the riots in London in the council estate where the riots began, and worked with 200 youths from the estate (Broadwater Farm). For me this is the heart of what we do – how we can translate the experience into real life, and how we it can have an impact.
(Slide: DPS) This is a recent screening we did for Dead Poets Society, three days after Robin Williams died. It was a very tragic event, and we wanted to do something where everybody can come together, and I sincerely believe that cinema should be reactive in this way. We sold 1000 tickets in 5 minutes and I then called every cinema chain in the UK, because we could have sold 100K, but none could move fast enough, and I understand that distribution/exhibition is so regimented that you cannot use it in the way it should be used.
Secret Space
We currently have a project called Secret Space, essentially where we are mapping the world's abandoned spaces. We are passionate about the idea that space belongs to the people. In London there are just so many abandoned spaces.
We should go back to that time where people watch cinema in all different spaces. Going back to cinema as a spectacle.
Every single venue should be multi purpose. It should become a gallery, a nightclub, it should become a place where those young people who go to the cinema would want to go to. And I'd like to discuss with you guys how the big spectacle can be translated into smaller venues.
The Future of Cinema
I am interested now in how, if people take this lead of the events we have created in the UK, on how to recreate this sense of spectacle. I think that there could be an entire new generation of people coming to see films, concerts in the cinema, art exhibitions.
What we have done is taking the idea on how to bring films to life in abandoned spaces. (Slide Brazil)
We do smaller events: we were one of the first to screen Searching for Sugarman, where we had Rodriguez behind the screen.
In the future, the way audiences want to see film, they want to see experiences. The way we want to curate in the future is to mix cult classic, great classic films and new films. We are going to release books, albums, new… The idea in the future is that, a month before the general release, you release the show, the experience, so that for a month, everyone is talking about the film.
We did this with The Grand Budapest Hotel and prior also with Prometheus. In The Grand Budapest Hotel, the audience became guests and the building itself was a sort of living and breathing billboard, which is what I am trying to persuade the studios, to spend less on advertising and more on experiences.
Back to the Future
Back to the Future was our biggest production, and we have wanted to do this for a few years. It represents such a classic world, a romantic world he travels back to. The idea of time travel, it shows the difference in our culture.
When we create an experience, we give everyone a character, we wanted to create an experience in which the audience steps inside the moment Marty travels back to. We create this world for the audience to become a part of. (Film BTTF)