Dir: Tony Goldwyn, US. 2010, 106mins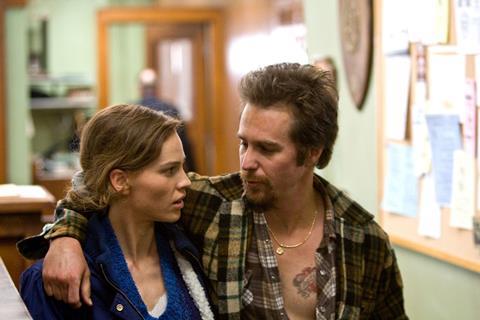 Miscarriages of justice are as American as the death penalty. Conviction, the latest from Tony Goldwyn, reconstructs the miraculous reversal of a murder verdict that freed an innocent man wrongly jailed for life.
It's tour de force for Hilary Swank.
Wrongful conviction melodramas are all over television. Yet Conviction's cast and the glaring injustice of the case that inspired the film could rally the US public. Hilary Swank as an uneducated mother who devoted years to digging up evidence to overturn the conviction of ne'er-do-well brother Kenny (Sam Rockwell) could earn award nominations.
Given Oscar-winner Swank's marketability and performances that place the film above the mass of Boston crime stories, Conviction should play well in English-speaking territories. Since the story is dialogue-driven and lacks pro forma car chases and brawls, other regions could be a tougher sell.
Conviction, based on a true story, unfolds outside Boston, in Ayer, a rural town where Betty Anne and Kenny Waters grew up poor with a neglectful single mother (Karen Allen). In flashbacks, Pamela Gray's script shows a special bond form as the two kids break into houses together. A local nuisance as a young man, Kenny is arrested when an elderly woman is stabbed to death. Released at first, two years later he's convicted and imprisoned for life after two ex-girlfriends testify that he boasted about the killing.
Convinced that he's innocent, sister Betty Anne (Swank) mobilises, completing high school and earning a law degree at 40 while tending bar at night. Her marriage is the next casualty after Kenny is sent away. She and classmate Abra Rice (Minnie Driver) make freeing him a mission that takes 17 years to achieve.
Convictionis not Tony Goldwyn's Erin Brockovich, although comparisons are inevitable. It's the tale of a shy self-deprecating provincial woman's empowerment, not a chronicle about a movement for justice. Swank plays the part with an agile nuance, as the murder verdict moves her to incredulity, helplessness, anger and determination. It's not just a portrait of sainthood. Betty Anne can be hopelessly disorganised, and is prone to wild rages when anyone suggests that Kenny might be guilty.
It's tour de force for Swank, but Rockwell as Kenny is joltingly real as a child troublemaker who's the first to be charged with any crime in the small town. Volatile, wisecracking, and self-destructive, he's the life of the party – even the prison guards like him - but he's also the guy whom respectable people want to see in jail. Rockwell will have to work hard to equal this performance.
The supporting cast is unusually strong. Minnie Driver, like Swank, has a flair for Boston profanity normally reserved for men. Melissa Leo is chilling as the local woman cop who assembles the "evidence" from ex-girlfriends, and remains unrepentant.
The saga's diva moment comes from Juliette Lewis as Roseanna Perry, a drunken ex with a guilty conscience. When Betty Anne approaches her to recant her testimony, she stands soliloquy on its head with a flustered confession infused with cheap vanity and malapropisms. One of the many sad ironies of Conviction is that a jury sent a man to prison for life based on deceitful testimony from such a character.
Pamela Gray's script builds on moments like that, and not on the generic courtroom and prison scenes of television series and Boston mob movies. Gray has a sensitive ear for nasal Boston gab, which can deflate any moment of solemnity with the right put-down.
Cinematography by Adriano Goldman observes the ordinary town where Betty Anne and Kenny raised each other, and never gets in the actors' way.
Those who followed the Waters case in the media may find it odd that Conviction omits a crucial part of the story. Six months after his release from prison, Kenny Waters struck his head in a fall, and died. It's a grim case of fate's indifference to the years of labor that finally set him free, and nothing if not a dark plot twist. That kind of reality check didn't fit the spirit of triumph that Goldwyn wanted the audience to take home.
Production companies: Omega Entertainment, Oceana Media Finance, Prescience, Andrew Sugerman, Longfellow Pictures
US Distributor: Fox Searchlight Pictures
International Sales: Voltage Pictures, www.voltagepictures.com
Producers:Andrew Sugerman, Andrew S. Karsch, Tony Goldwyn
Executive Producers: Hilary Swank, Markus Barmettler, James Smith, Anthony Callie, Alwyn Hight Kushner
Screenplay:Pamela Gray
Cinematography: Adriano Goldman
Editor: Jay Cassidy
Music:Paul Cantelon
Production designer: Mark Ricker
Main Cast: Hilary Swank, Sam Rockwell, Minnie Driver, Melissa Leo, Peter Gallagher, Juliette Lewis