Dir: Henry Selick. US. 2009. 100 mins.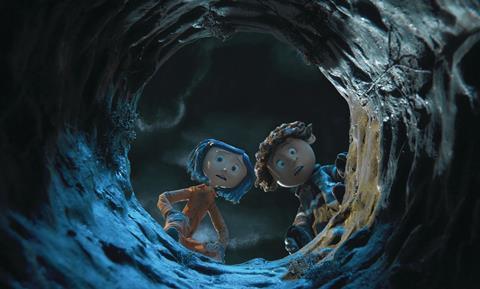 Neil Gaiman's 2002 children's book gets the big screen treatment courtesy of Henry Selick (The Nightmare Before Christmas, James And The Giant Peach) and the results are patchy. Although it features some of the most exquisite stop motion animation seen to date, even more glorious to watch in 3D, the tone of the film is curiously unsympathetic. The characters are brittle, there's little humour and the story will frighten the life out of children under the age of 10.
Conceived and photographed in stereoscopic 3D, the film is a visual treat
How this chilly film will fare with audiences is a mystery. Although it's rated PG in the US, Coraline could be too much for younger children to handle, parents will find it disturbing, and teens will be restless with its 100-minute running time. Although Focus might have a strong opening based on Selick's name and the perennial popularity of Nightmare Before Christmas, word of mouth could be lukewarm.
In the Gaiman cannon, it is tonally more MirrorMask than Stardust and its box office prospects are more likely to fall in the James And The Giant Peach region ($29m domestically in 1996) than Monster House ($74m) or bigger.
Eleven-old child Coraline (voiced by Fanning) has just moved with her parents from Michigan to rural Oregon where the family has rented an apartment in a spooky old house. Missing her friends and ignored by her self-absorbed parents (Hatcher, Hodgman), she tries to entertain herself by visiting the neigbours - eccentric British actresses Miss Spink and Miss Forcible (Saunders and French) and Russian acrobat Mr Bobinsky (McShane) - or by befriending a local boy called Wybie.
But when Wybie gives her a doll with buttons for eyes that looks like her, Coraline's boring life changes completely and she discovers an alternate version of her real life through a cupboard in the living room. In the alternate world, her mother and father - both with button eyes - dote on her and she is much happier. But when her other Mother tries to make her stay in the alternate world and leave her real life, she realises that she is in grave danger.
Among the many creepy elements to the story are children who have their eyes taken out and buttons sewn in their place, parents who go missing, a villainess who transforms into a metal spider with blades for fingers, dolls which spy on you and any number of rats and giant bugs.
Conceived and photographed in stereoscopic 3D, the film is a visual treat and the design - via Japanese illustrator and designer Tadahiro Uesugi - is often breathtaking. Indeed the dark surrealness of the film is both its greatest asset and its biggest commercial obstacle. The scary British ladies downstairs who stuff their Scottish terriers when they die are grotesquely imperious; and when Coraline is trapped in a theatre with thousands of terriers as the audience or when she is forced to enlist the help of a horde of bats with the faces of terriers, the film is almost Lynchian in its use of unsettling imagery.
Production companies
Laika
Pandemonium
Worldwide distribution
Focus Features/FFI
Producers
Bill Mechanic
Claire Jennings
Henry Selick
Screenplay
Henry Selick
Based on the novel by Neil Gaiman
Cinematography
Pete Kozachik
Production designer
Henry Selick
Editors
Christopher Murrie
Ronald Sanders
Music
Bruno Coulais
Main voice cast
Dakota Fanning
Teri Hatcher
John Hodgman
Jennifer Saunders
Dawn French
Keith David
Ian McShane