Dir: Ralph Fiennes. UK. 2010. 122mins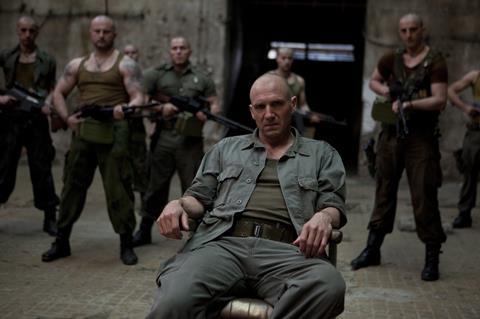 The main achievement of Ralph Fiennes' impressive first foray into direction is the vindication of his claim (and that of scriptwriter and adaptor John Logan) that Shakepeare's late tragedy Coriolanus, often dismissed as one of the Bard's more flawed and problematic works, is in fact a complex character study that is brimful of contemporary relevance.
Fiennes fully rises to the challenge of the role: petulant, brave, arrogant, loyal only (to an almost homoerotic extent) to fellow soldiers, but fatally in thrall to his stronger mother.
Recasting the play's action in a present day 'Rome' that bears little resemblance to the Eternal City and instead seems a war-ravaged Balkan state, and putting several of Shakespeare's lines in the mouths of TV news presenters, Fiennes' draws out the play's central theme of political pragmatism. Coriolanus is a war hero turned politician who refuses to sweet-talk the plebs, and the film's mise en scene encourages the audience to make their own connections to today's videocracies and to the phalanx of spin doctors, press flaks and voice coaches that trail along behind those politicians who need to display the common touch.

In this, of course, it's not exactly breaking new ground: Richard Loncraine's tasty 1995 Richard III showed how one of Shakespeare's 'military' plays could be updated and loaded with modern significance, and Baz Luhrmann gave lines to TV anchormen in Romeo And Juliet. So despite the relevance of these modernising strategies here, audiences with an appetite for Shakespeare may experience just a little deja-vu.

They may also be put off by the film's (and, it should be admitted, the play's) second-act problems, as military clashes are replaced by long wordy stand-offs. Here, and in an overlong final scene involving Coriolanus' wife, mother and son as desperate supplicants for peace, there is room for trimming. But this good-looking, well-cast and finely performed film still makes a worthy addition to the corpus of Shakepeare adaptations, and should perform steadily in prestige arthouse markets, with good prospects for a long shelflife, not least in educational contexts.

Pitching straight into the action, the film opens with a montage of TV news reports broadcast by a certain 'Fidelis TV' but identical in their style and logos to BBC World bulletins (well-known news anchorman Jon Snow even gets to deliver some of the Bard's lines, as if reporting on breaking news). We learn that the common people are unhappy with their lot - but when they storm the city's central grain depot, general Caius Martius (Fiennes) is there to meet them - shaven-headed, tattooed, radiating aggression, soldierly pride and contempt for the rabble.

Soon, having turned back the mob in a way not calculated to improve their already low opinion of him as an arrogant and undemocratic enforcer, he is back in his real element - in the field, taking a town called Corioli from a group of Volscian freedom fighters led by honorable guerilla general Tullus Aufidius (Butler).

Back at home, meanwhile, Caius' steely mother Volumnia (Redgrave) tells the soldier's tender-hearted wife Virgilia (Chastain) that far from fretting for her husband she should be happy that he has yet another chance to cover himself in military glory. The relationship between Volumnia and her son is one of those borderline-perverse mother complexes that Shakespeare loved to explore, and the script runs with it engagingly; one of the film's many well-judged decisions is to make Volumnia not a cold monster but a proud father-mother, utterly dedicated to her son's military career; Redgrave carries the role with her usual passion and panache.

Returning to Rome, Caius is given the honorofic title 'Coriolanus' for his victory at Corioli by a grateful Roman senate - all besuited politicians apart from the high-ranking army-general president (Kani) - and he is congratulated by wily senator and family friend Menenius (Brian Cox, well cast). All seems set for the soldier-hero's election as consul; but Coriolanus' barely-disguised contempt for lazy, easily-swayed civilians is exploited by ambitious young tribune Sicinius (Nesbitt) and his older party colleague Brutus (Jesson), and in a televised 'trial' set in a TV studio and broadcast live, Coriolanus is sentenced to exile by popular vote (the Big Brother parallels are not pushed here, merely hinted at).

Shot largely in Serbia and Montenegro, the film uses wintery Balkan landscapes and war-damaged city locations to good effect, and the intimate but never jerky handheld photography by Hurt Locker cinematographer Barry Ackroyd brings a gritty realism to the battle scenes, and seems to circle the enigma of the film's anti-hero protagonist as if trying, like us, to get inside his head.

Music is sparse and military, colours wintery or dark, with much use of firelight and shadow to further complicate our attitudes towards Coriolanus. Fiennes fully rises to the challenge of the role: petulant, brave, arrogant, loyal only (to an almost homoerotic extent) to fellow soldiers, but fatally in thrall to his stronger mother, he disproves finally one of the play's and the film's best lines: that there is no "milk in a male tiger".


Production companies: Artemis Films, Hemetof Pictures, BBC Films, Lonely Dragon
International sales: Icon Entertainment International, www.icon-entertainment.co.uk
Producers: Ralph Fiennes, John Logan, Gabrielle Tana, Julia Taylor-Stanley, Colin Vaines
Executive producers: Marko Miskovic, Will Young, Robert Whitehouse, Christopher Figg, Norman Merry, Christine Langan, Anthony Buckner
Screenplay: John Logan, based on the play by William Shakespeare
Cinematography: Barry Ackroyd
Production designer: Ricky Eyres
Editor: Nic Gaster
Music: Ilan Eshkeri
Main cast: Ralph Fiennes, Gerard Butler, Brian Cox, Vanessa Redgrave, Jessica Chastain, John Kani, James Nesbitt, Paul Jesson