Dir/scr: Shana Feste. US. 2010. 120mins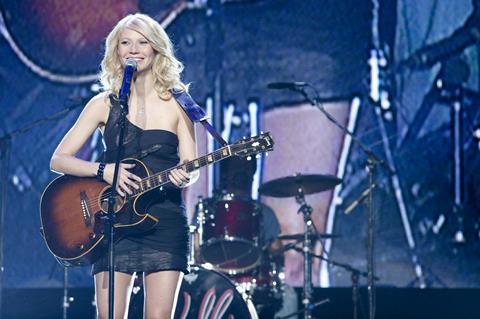 A country music drama with a big heart but not enough focus, Country Strong tackles fame, artistic expression, addiction and love, although none of them deeply enough to feel satisfying. Gwyneth Paltrow acquits herself nicely as a country superstar attempting a comeback, but the sophomore effort from writer-director Shana Feste (The Greatest) suggests she's still a filmmaker whose themes are grander than her execution.
Paltrow displays an ability to portray a damaged, self-destructive beauty, and she's quite confident singing the film's appealing country-pop songs.
Opening in limited US release December 22 before a national rollout January 7, Country Strong should cater to fans of country music, which is featured prominently. Musical and thematic similarities to last year's Crazy Heart (also about a boozing country legend) could help this Sony offering, but despite Paltrow's presence Country Strong may wind up a stronger player in ancillary markets than on the big screen.
Alcoholic country singer Kelly Canter (Paltrow) is trying to get her career back together through a stint in rehab, although she and her husband/manager James (Tim McGraw) are anxious for her return to the stage. Unbeknownst to James, Kelly has been having a tryst with Beau (Garrett Hedlund), an employee of the rehab facility who's also a songwriter. Kelly insists that Beau be one of her opening acts for the forthcoming tour, but James also brings along Chiles (Leighton Meester), a seemingly empty-headed beauty pageant winner who wants to become a singer.
In her debut, The Greatest, Feste examined the mourning process of a married couple who lost their 18-year-old son and must help his girlfriend through her unplanned pregnancy with his child. Country Strong would seem to be a very different sort of story, but once again Feste is most interested in the often-uncomfortable interaction of mismatched characters forced to inhabit the same space because of unexpected circumstances.
But while Feste and her cast do their best to give all four central characters a certain amount of dramatic shading – showing how the pursuit of commercial success and personal fulfilment affect each of them in different ways – the romantic roundelays largely prove underwhelming. In particular, Beau's indecision regarding whether to court Kelly or Chiles is little more than a symbolic personal struggle about whether he wants to chase stardom or happiness.
As she did in last year's Two Lovers, Paltrow displays an ability to portray a damaged, self-destructive beauty, and she's quite confident singing the film's appealing country-pop songs. Unfortunately, Feste's screenplay simplifies Kelly's personal demons in such a way that her would-be comeback only rarely feels as urgent and harrowing as it should. Likewise, while Hedlund demonstrates far more warmth here than he does in the tech-heavy TRON Legacy, his character is just one more wide-eyed young performer who learns important life lessons while following his artistic dreams.
Production companies: Screen Gems, Material Pictures
Domestic distribution: Sony, www.sonypictures.com
Producers: Jenno Topping, Tobey Maguire
Executive producer: Meredith Zamsky
Cinematography: John Bailey
Production designer: David J. Bomba
Editors: Carol Littleton, Conor O'Neill
Music: Michael Brook
Website: www.countrystrong-movie.com
Main cast: Gwyneth Paltrow, Tim McGraw, Garrett Hedlund, Leighton Meester