Dirs. Mark Neveldine, Brian Taylor. US. 2009. 95 mins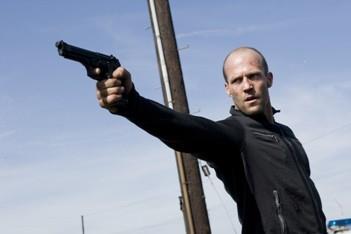 Going even further over the top than 2006's modestly successful Crank, this sequel sees writer-directors Mark Neveldine and Brian Taylor reuniting with British tough guy Jason Statham for a self-consciously crazy action romp which overdoses on cartoonish violence and non-PC comedy. Video-game-playing young male fans of the original may get even more of a charge from Crank: High Voltage, but having taken the franchise's formula to the extreme, producers Lionsgate and Lakeshore will find it difficult to reach beyond that hard core for a bigger mainstream audience.
The audience certainly seems to have been limited in North America, where the R-rated sequel opened wide at the weekend through Lionsgate and grossed an estimated $6.5m, well short of the $10.5m opening achieved by the original (which went on to take a total of $27.8m domestically). Ancillary revenue – the original did well on DVD and as a VOD/PPV offering – could make up some of the difference.
Prospects could be slightly better in the international marketplace, where the sequel, licensed to independent distributors by Lakeshore, has just opened in the UK and Germany and will reach other territories later this summer. With Statham coming off last autumn's Transporter 3, his biggest international hit as a headliner, he may be able to drive High Voltage past its predecessor's $16.9m international tally.
Re-using the basic structure of the first film, the sequel jolts into life with Statham's no-nonsense hitman Chev Chelios falling from the sky onto a Los Angeles street corner. Things just get more ludicrous from then on.
Chelios is kidnapped by a Chinese gang who replace his heart with an artificial ticker requiring regular charges of electricity. Escaping from the gang, Chelios goes on a mad dash across LA in search of his vital organ, now installed in decrepit Triad boss Poon Dong (David Carradine).
On Chelios' trail is Mexican gang boss El Huron (Clifton Collins, Jr); and helping him stay alive are his girlfriend Eve (Amy Smart, returning from the first film) and the sleazy Doc Miles (Dwight Yoakam, also from the original). To keep the juice flowing to his heart, Chelios resorts, among other extreme measures, to attaching jumper cables to his tongue and grabbing onto power lines.
The first film made up for its lack of narrative with some effective high-energy stunts and chases. The sequel, whose tone recalls cheesy Asian martial arts movies and seventies B pictures, relies more on bare-breasted babes, lavish gunplay (often involving bare-breasted babes), raunchy slapstick comedy and not very sharp spoofs of Jerry Springer-style talk shows and Japanese monster movies. The effect is decidedly hit or, much more often, miss.
Neveldine and Taylor, who started out in commercials and last year made Lakeshore thriller Pathology, used an array of consumer and professional grade high-definition video cameras to shoot the action and the result is undeniably eye-catching, if a little busy.
They're not so good at pacing, however, and certain scenes – even the very public sex scene re-jigged from the original – drag on too long and rob the film of momentum.
Statham jumps into his role just as enthusiastically this time around but Yoakam is not quite as much fun as he was in the original. New cast members include veteran Carradine (playing off his Shaolin monk role in seventies TV series Kung Fu) and, in a fairly pointless role as a fast-talking call girl, Chinese actress Bai Ling.
Cameo performers include former Spice Girl Geri Halliwell, Troma Studios president Lloyd Kaufman and porn star Ron Jeremy.
Production companies
Lakeshore Entertainment
Lionsgate
@radical.media
North American distribution
Lionsgate Films
International sales
Lakeshore
Producers
Tom Rosenberg
Gary Lucchesi
Skip Williamson
Richard Wright
Screenplay
Mark Neveldine & Brian Taylor
Cinematography
Brandon Trost
Production design
Jerry Fleming
Editor
Fernando Villena
Costume design
Dayna Pink
Music
Mike Patton
Main cast
Jason Statham
Amy Smart
Clifton Collins, Jr
Efren Ramirez
Bai Ling
David Carradine
Dwight Yoakam