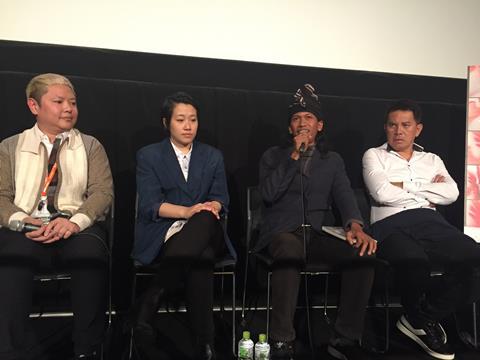 At Tokyo International Film Festival's Crosscut Asia symposium, three young filmmakers from Southeast Asia shared experiences of making their first or second features.
Kristo by the Philippines' HF Yambao, Pop Aye by Singapore's Kirsten Tan and Indonesian director BW Purba Negara's Tales Of The Otherwords were among nine features and four shorts selected for the fourth edition of Crosscuts Asia, which features works selected by established filmmakers and this year took a pan-regional approach rather than focusing on one country.
Pop Aye, the Sundance premiere which is now Singapore's submission for the foreign-language film Oscar, was recommended by Eric Khoo; Tales Of The Otherwords was put forward by Riri Riza; and Kristo was programmed by Brillante Mendoza, who also took part in the symposium alongside his protégé Yambao.
Elephant tales
Tan, who graduated from shorts with Pop Aye, which follows a disenchanted architect and a displaced street elephant as they journey across Thailand, described how having an elephant ended up doubling the size of her debut feature. "Initially we wanted a small, flexible shoot but when we added an elephant, we needed handlers and assistant directors and before I knew it, there were 60 people on set," she said. "For a first-time director, it was a big challenge. I felt like I was holding this small cup of water in a shaky place and trying to make sure not a drop spills."
Working with the elephant posed its own challenges but, noted Tan, "by the middle of shoot, I think he knew what was happening. A lot of it was trying to train the elephant to act, like how to hit his mark or how to turn and hold an eyeline. It felt similar to filming a very young child – in some ways you can't control it. Sometimes I just let the camera roll and shot whatever he wanted to do, and then I had to find moments in editing."
"I think the elephant is probably the best actor in my film because he's not acting, he's just doing his own thing," Tan added with a laugh.
The limits of budget
Manila-born Yambao was working in TV production and PR before approaching Mendoza to ask if he could be his apprentice. "I was able to observe him while he was working in all aspects of making a film, not just during the shoot," said Yambao. "Sometimes he would mentor me and say, 'This is how you do that.' That was how I learned filmmaking."
For Kristo, his second film, which follows an impoverished Filipino boy who supports his large family as a bet collector at cockfights, Yambao shot for only five days on a tight budget. Rather than staging scenes, the director thrust his main cast of three actors into real situations, including in cockfight arenas, and used three roving cameras to capture the action.
While Yambao had scripts for both of his features, he didn't show them to the actors, emulating his mentor's approach to films such as 2016's Ma' Rosa to bring emotional spontaneity to the performances. "I tell them the full story and if there are any difficult scenes for them to do, for instance nudity. Most of the actors agreed to that set-up because they knew me through Brillante."
Mendoza added that limitations in budget shouldn't be an issue for regional filmmakers. "That's part of the process of doing our films," said the filmmaker, who won Cannes' best director prize in 2009 for Kinatay. "I always tell my students and my workshoppers to make the most out of it – they shouldn't be bothered by it. As long as the story is clear, they can even be more creative."
Purba Negara worked with mainly non-professional actors on his debut feature Tales Of The Otherwords, including his 95-year-old lead actress Ponco Sutiyem, a farmer he found in a village near where he lives in Indonesia. The film follows an old woman searching for her missing husband's grave so she can be buried beside him when she dies.
"She had experiences quite similar to what I wrote," said the director, adding that he allowed Sutiyem to improvise some of her scenes. "Sometimes she improvised and sometimes for too long but it's okay. For example, for one one-minute scene she spoke for 30 minutes. But that's no problem for me because I work in documentaries."
New projects
Yambao shot both of his features in 2016 (his debut Best. Partee. Ever. was about an affluent gay man in prison for drug dealing) and has a new screenplay ready to shoot. "The next film I plan to do is why I wanted to go into filmmaking – but it's about depression and I've been told it's too western, it's not what Filipino independent films are all about," he said. "That's why I first approached Brillante. My goal is to be able to tell stories that are not commonly showcased in the Philippines."
Tan, who spent nearly four years working on Pop Aye, is currently shooting commercials while she contemplates her next move.
Pop Aye is represented for worldwide sales by Cercamon, while Indonesian outfit Hide Project Films is selling Tales Of The Otherwords. Production companies for Kristo are Manila-based Eichef Media and HFilms.