Dir/scr: Ivy Ho. Hong Kong. 2010. 105 mins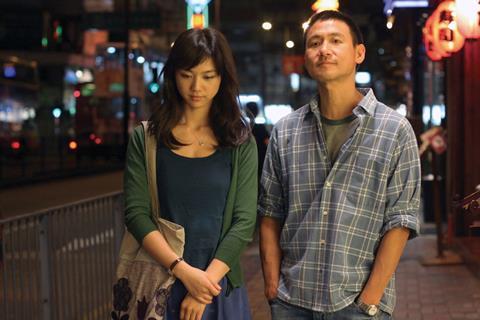 Crossing Hennessy is an engagingly fresh and enjoyable dramatic comedy that makes great use of its Hong Kong locations as it delves into the romantic complications of modern urban life. It is perhaps too old-fashioned and straightforward to break the box office (or travel extensively internationally) but it is clear why it was the natural choice to open the Hong Kong International Film Festival.
The real star of the show is Tang Wei who offers a natural charisma that is both unfussy and quite captivating.
The fact that not an awful lot massively dramatic happens - beyond a few arguments, an illness and a belated fistfight - does not hamper the story of a quite ordinary 'will-they-won't-they' couple as they go about their modest life. No Tried gun-battles or kung fu clashes here, just a simple Hong Kong tale of love and loss.
When 41 year-old Loy (Jacky Cheung) is set up on a date by his flamboyant shopkeeper mother (Paw Hee-ching, who plays her role with increasingly enjoyable shrillness) it is no great success. Quietly beautiful Oi Lin (played elegantly by Tang Wei, who first gained attention in Ang Lee's Lust, Caution) has no real interest in him, and still hopes her jailed boyfriend will turn good.
Both Loy and Oi Lin work in shops on Hennessy Road (she is rather unfortunately dubbed the 'Toilet Princess' because she works in her uncle's plumbing goods store) and over the coming weeks and months meet through a series if chance encounters and grudgingly come to realise that against the odds they make each other happy and content.
And that is pretty much that. Writer-director Ivy Ho weaves a gently entertaining story of simple folk falling gradually in love. She offers up a few tasty side dishes along the way - especially the comedy double act of Paw Hee-ching and veteran performer Mimi Chu (who play's sister) as a bickering pair both trying to keep Loy in order - but apart from that sensibly allows the central relationship to develop at an unhurried and oddly realistic pace.
Jacky Cheung has a certain good-natured charm, and plays his ageing slacker role ably, though the real star of the show is Tang Wei who offers a natural charisma that is both unfussy and quite captivating.
A series of random 'imaginary' scenes involving local Indian actor Gill Mohindepaul Singh might well amuse local audiences, but will leave everyone else scratching their heads and wonder what on earth is going on. Unlikely to play much outside its home territory, there is still a lot to enjoy in Crossing Hennessy and its romantic slice of Hong Kong life.
Production company: Irresistible Films
International sales: Distribution Workshop. www.distributionworkshop.com
Producers: Cary Cheung, Tang Wei, Cheung Hong-fat
Cinematographer: Poon Hang-sang
Editor: Kong Chi-leung
Music: Anthony Chue
Main cast: Jacky Cheung, Tang Wei, Paw Hee-ching, Danny Lee, Andy On, Mimi Chu