Dir/scr: Amir Naderi. Japan. 2011. 132mins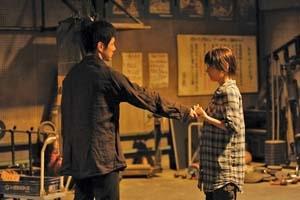 Made by one enraged film buff for others just like him, with more cinematic references than even experienced cognoscenti could handle in a single screening, this film is certainly one of the most significant to come out this year in Venice, both in shape and content.
Naderi's film is a furious, unchained complaint on the condition of cinema today.
Bound to become a favorite international festival attraction and an art house must, Cut may however put off certain audiences who might find it too single-minded and grueling for their taste. As a matter of fact, this is exactly what Naderi is sounding off about, loudly and clearly. His film is most probably preaching to the converted who share his belief that cinema is an art, as opposed to the opinion that it should be pure, unadulterated entertainment.
The story of a man who turns himself into a punching bag to pay off the debts his late brother incurred on his behalf - shot entirely in Japan with Japanese actors speaking their own language - this strange hybrid product, made by an exiled Iranian director living and working in US for many years now, looks and feels as an authentic Oriental product in all details, be it the conduct of the characters or the nature of the story.
Enriched by the filmmaker's addiction to the art of the moving pictures, this hymn to cinema as such turns it into a religion that gives our lives - or at least the life of the lead character, Shuji (Hidetoshi Nishijima, in a painfully memorable performance) - a different and more profound sense.
Shinju, a struggling, angrily despondent filmmaker who has no money to actually make films, goes out on the streets screaming against commercialised multiplexes, the cinema industry that has sold out and the indifference of the crowds going by without paying any attention to his protests.
He lives in a dilapidated rooftop apartment whose walls are plastered all over with images covering the entire history of cinema, from the Lumiere brothers onwards. In the evenings, he runs a private cinematheque on his terrace, showing his small audiences films by Buster Keaton, Hiroshi Shimizu, Carol Reed, John Ford and Kaneto Shindo, while in the daytime, whenever he is not preaching at street corners, he goes regularly to pay reverence on the graves of Kurosawa, Ozu and Mizoguchi.
Until one day he is called to the local chapter of the Yakuza, presented with the ashes of his late brother who was not only a working criminal, but also borrowed money to provide for Shuji's needs. Now, that he has been punished for betraying his employers, the local boss, Masaki (Shun Shugata) tells Shiuji that either he covers the 12 million yen still owed to the organisation in the following 12 days or he will be next in line.
Since he sees no other option, Shuji offers the local gang of goons to work out their aggressions on him for money instead of using the local gym's punching bag, but insists these sessions have to take place in the same decrepit bathroom where his brother met his death.
Basically a simple story, directed and edited with energetic abandon, supported by realistic sound and convincing make-up, essential for the hero's bruises which are spreading every day, the plot is adorned all through with film titles, quotes and allusions, too long a list to be repeated in full.
Every time he is being mercilessly beaten up, under the horrified eyes of Yoko (Takako Tokiwa) and Hiroshi (Takashi Sasano), the gym's bartenders, Shuji escapes the pain and humiliation by reciting from memory the programmes of his improvised cinematheque, a perfect occasion to pay homage to such luminaries as Mizoguchi and Max Ophuls, for instance. And to complete the list of cinema's high priests, just in case any of them were missed, as the film reaches its climax, he exposes himself to a series of 100 blows, which he bears only by going over his own choice of the 100 best films in the history of cinema.
As a straightforward narrative this could be the story of Shuji's stubborn decision to punish himself for causing his brother death, but way beyond that, Naderi's film is a furious, unchained complaint on the condition of cinema today and a metaphor on all the miseries true film lovers in general and filmmakers in particular, are subjected to if they wish to stick to their guns and go on fighting for the kind of movies the believe in. What better statement would a film festival need in order to justify its existence?
Production company: Tokyo Story
International Sales: The Match Factory, www.the-match-factory.com
Producers: Eric Nyari, Engin Yenidunya
Screenplay: Amir Naderi, Abou Farman with Shinjy Aoyama, Yuichi Tazawa
Cinematography: Keiji Hashimoto
Editor: Amir Naderi
Production designer: Toshihiro Isomi
Main cast: Hidetoshi Nishijima, Takako Tokiwa, Takashi Sasano, Shun Shugata