Dir/scr: Jordan Todorov. US. 2011. 58mins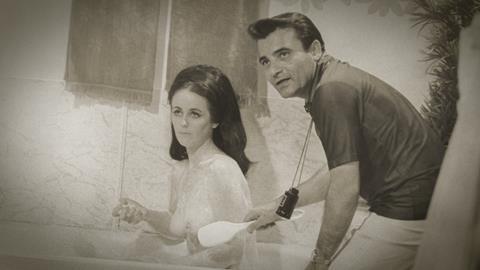 Fans of cult exploitation cinema of the late 1960s and early '70s will relish this engagingly balanced delve into the work of Stephen C Apostolof (aka A.C. Stephen), a purveyor of innocent soft core porn and kitsch horror, perhaps best known for directing the Ed Wood scripted 1965 sex'and'horror cult classic Orgy Of The Dead.
Dad Made Dirty Movies does a great job in capturing the feel of the era.
Seen largely from the perspective of his four children (and last of his third wives), the film features a fake narration (spoken by D.T. Anderson) form Apostolof as he details his rich and varied life on the edges of the Hollywood film business. Dad Made Dirty Movies might run just under an hour, but it being sold by Autlook Films as an attractive double-bill with Orgy Of The Dead, which could make an easy booking for genre and late –night screening venues.
During the Communist take-over of Bulgaria after the war, Aspostolof found his way to America via Turkey and France, eventually claiming asylum in the 1940s. In 1957 he managed to produce an anti-Communist film titled Journey To Freedom, loosely based on his own life. On that film he worked with cinematographer William C Thompson and actor Tor Johnson, later to find fame – or at least notoriety – with oddball director Ed Wood.
After a meeting with Ed Wood (as narrated, Apostolof recalls that Wood arrived for their meeting at the Brown Derby restaurant in Los Angeles in drag and sporting a moustache) Apostolof made his directorial debut with Orgy Of The Dead, starring the television clairvoyant Criswell, who had featured in Wood's notorious Plan 9 From Outer Space.
During the 1960s and '70s he directed nine screenplay written by Ed Wood, and began to focus on soft-core (or 'nudie' films as they became known) such as Motel Confidential (1967), Office Love-In (1968), Lady Godiva Rides (1969), Drop Out Wife (1972) and The Snow Bunnies (1972).
The advent of hard core pornography at the cinema – such as Deep Throat – essentially killed off the oddly innocent 'nudie' films and Apostolof found his funding system drying up. He made an attempt to crack the comedy-action market with caper film Hot Ice (1978), but found Hollywood no longer interested in him.
Dad Made Dirty Movies does a great job in capturing the feel of the era, with plenty of black-and-white clips of topless women (he favoured using strippers and dancers for his films) bouncing up and down in his largely naive and inept movies. But all those involved – from his children through to performers such as Nadeja Bobrev – recall the time with a certain affection, and despite their simplistic sexism, bad acting and poor production values the films make for a fascinating slice of alternate life in the 1960s and '70s.
Of course the film also acts as the perfect set-up for the dubious 'pleasures' of Orgy Of The Dead, a film has developed consistent cult appeal over the years, with a Canadian burlesque company even producing their own stage version of the story. The film is about a fresh-faced couple who go in search of a cemetery to help inspire the guy write his next horror story, but after a car crash they wander into a graveyard and come across the dancing – and topless – dead…plus there is a Mummy and a Wolfman!
As the video sleeve for the film promised: ""A bizarre bouillabaisse, blending beautiful naked ZOMBIE GIRLS, VAMPIRES, VIXENS, WANTON WEREWOLVES and TORTURED TEENS in bondage…" One for cult film fans.
Production company: Agitprop, Filmtank, ZDF/ARTE
International sales: Autlook Films, www.autlookfilms.com
Producers: Martichka Bozhilova
Co-producer: Thomas Tielsch
Cinematography: Georgi Bogdanov, Boris Missirkov
Editor: Kevork Aslanyan
Website: www.dadmadedirtymovies.com
With: Susan Apostolof, Polly Apostolof, Steve Apostolof, Christopher Apostolof, Shelley Apostolof, Harvey Shane, Nadeja Bobrev