Dirs. Josh and Benny Safdie. US. 2009. 100mins.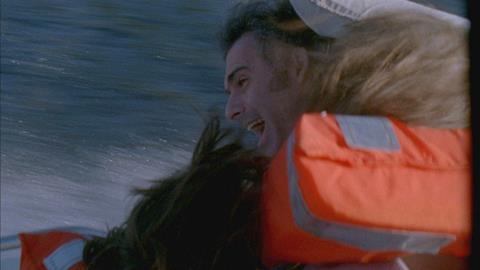 In his debut feature The Pleasure of Being Robbed (2008), New York City native Josh Safdie shot scenes of the Big Apple from a car that were totally fresh—not an easy feat in a metropolis that has been filmed nearly every which way. Now he and brother Benny come close to accomplishing the same, but from the vantage point of a pedestrian in a pointedly unglamorous Manhattan.
Lenny is played with relish by Bronstein, an indie director himself
That man on the street is an un-ambitious, divorced man-child named Lenny (Bronstein), who manically darts to and fro attempting, mostly in vain, to care for his kids during his annual two-week child custody (the character is based on Safdies' own father). That they opt for a frequently close-in, jerky camera style and a grainy look could limit the film's commercial life to urban arthouses in the US, although some European territories are more open to such low-budget American indie fare. Yet the movie's winning humour could prove a sales asset. It is grounded not in laugh lines but in the odd situations in which Lenny finds himself, and the bizarre friends and acquaintances he comes across (the most memorable being a man who sings Cuanto Caliente el Sol into a microphone while waterskiing).
A projectionist, Lenny is played with relish by Bronstein, an indie director himself (Frownland), who captures the character's frenzied immaturity as well as his infectious zest for life. His self-absorption and avoidance of responsibility conflict with the obligations placed upon him when his two adorable sons, nine-year-old Sage (Sage Ranaldo) and seven-year-old Frey (Frey Ranaldo), come to stay in his untidy midtown tenement apartment.
Lenny acts less like their father than their peer, and he makes some unwise choices regarding the children. He wants to have his cake and eat it, too, to have them around while still maintaining the freedom he has become used to. He sneaks out to see women. He nearly kills the kids with sedatives so they will sleep while he goes to work, although the fact he is responding to workplace blackmail by an uncompromising boss allows him to remain a sympathetic figure in our eyes.
Lenny commands the screen. He is the consummate New Yorker: spontaneous, sassy, manipulative. He could be referring to himself when he shows the boys an enlarged model of a mosquito at the Museum of Natural History, informing them that "they are native to New York." Underneath his adolescent behaviour, however, lies a repressed layer of melancholy, most notably manifest when he is home alone after the boys have returned to their mother. Gone is his engaging friskiness, but he is nothing if not resilient. In constant denial, and incapable of letting himself experience emotional pain, he takes drastic action. To their credit, the Safdies leave the finale open-ended.
After a while, the continuous handheld style and gritty texture begin to feel a little mannered, a bit vertiginous. Fortunately, Bronstein's high-energy presence overcomes any formal quibble.
Production companies
Neistat Scott & Associates
Red Bucket Films
Sophie Dulac Productions
International sales
Films Boutique
(33) 4 92 99 88 21
Producers
Casey Neistat
Tom Scott
Screenplay
Josh and Benny Safdie
Cinematography
Brett Jutkiewicz
Josh Safdie
Editors
Josh and Benny Safdie
Brett Jutkiewicz
Ronald Bronstein
Production design
Sam Lisenco
Main cast
Ronald Bronstein
Sage Ranaldo
Frey Ranaldo
Eleonore Hendricks
Dakota Goldhor
Leah Singer