Writer-comedian David Baddiel talks about The Infidel, the film he wrote and produced, and explains why many risk-taking British comedians are turning from TV toward the big screen.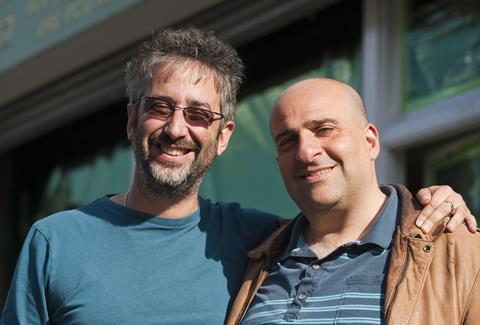 The Infidel is the story of a Muslim family man (Omid Djalili) who discovers that he's adopted and Jewish. Directed by Josh Appignanesi and made through UK outfit Slingshot (and being sold internationally by The Salt Company), the film will hit UK cinemas April 9.
The Infidel will then have its North American premiere at the Tribeca Film Festival on April 25, followed by a platform theatrical release day and date with a nationwide VOD launch, as part of the inaugural slate of the organisation's new distribution outfit Tribeca Film.
Baddiel became a household name in the UK in the 1990s thanks to his TV comedy shows with Rob Newman and Frank Skinner. He is also a successful novelist. Baddiel originally took the idea for The Infidel to BBC Films, then headed by David Thompson. His idea from the outset was for "a feelgood movie," albeit a spiky and provocative one.
How did you come together with Slingshot?
I think the BBC changed its identity over the period of time I was writing this film. Sachsgate happened. The BBC's happiness in taking on any kind of issues of controversy narrowed when I was writing this film. Meanwhile, the BBC had just established a deal to make low-budget films with Slingshot. Slingshot read the script as part of the deal and really loved it, even if the BBC were a bit more hands-off by then. It was developed as part of the BBC's Slingshot deal. Then it became clear to me that the BBC would never really get behind it (although if you watch the movie closely, it does say in the credits 'developed with BBC Films.') Around the end of 2008, I and other people at Slingshot made a decision we should take it away from the BBC and try to get it financed independently, which is what happened. A number of distributors were interested and Revolver came in.
Other British comedians like Armando Iannucci (with In The Loop) and Chris Morris (with Four Lions) are also turning to film. Is that coincidence or has it always been an aspiration of British TV comedians?
If you have worked in TV a long time as Armando and Chris and I have, maybe you want to do something else. Also, I would say, it is something to do with TV at the moment. To some extent, it's about TV no longer being a place where you can really do that challenging work in comedy. I guess film provides that.
How important is it to you that The Infidel is seen internationally, and in the Middle East in particular?
We have sold the film all over the world. I am very interested in the fact that we sold so quickly to the Middle East. That is heartening for us. Obviously, one of the things we are concerned about is that this film is taken in the right way by the Muslim community.
Why are you holding your world premiere in the Hammersmith Apollo?
We couldn't afford one of the big Leicester Square cinemas. I had played the Hammersmith Apollo as a stand-up comedian and so had Omid Djalili. It has very much become the home of comedy in Britain. Also, it felt more informal and "street" than some of the other places. We are not going to have a dress code and we're planning to do a little bit of comedy and music before the film. It also happens to have the biggest screen in Britain.
You wrote the film with Omid in mind?
It was inspired to an extent by seeing Omid although I have myself had enough experience of people becoming ethnically confused. A lot of people thought I was Indian when I first appeared on TV. At school, a lot of people thought I was Indian or Pakistani. I think Omid is a better actor than me and you kind of want to cuddle him. The character is a Homer Simpson-kind of Muslim character — someone who, although deeply flawed, you love. Without doing myself down, I don't know if I could get that. If you are dealing with subject matter that some people feel uncomfortable with, if you've got someone that people basically really like, then you can get away with that.
How have audiences reacted to the film?
The primary reaction, which is what I have wanted, has been laughter. It get laughs all the way through. Also, some people have found it moving and have found it raises issues. We had a screening at the Notting Hill Coronet that was organised by an Islamic social networking site called Emerald. There were Jewish people there but it was 80% Muslim. Of that 80%, a lot were women in hijabs. I was a bit worried about how it was going to go down but it got laughs. Afterwards, when we had a Q&A, a lot of people got up and said how much they liked it. The central family in the film is a normal Muslim family who are British. They have their flaws but they're basically a bunch of nice people. They're just like any other British family. The main character gets involved with something to do with cultural and religious identity but they begin from a point where they are not harbouring jihadis or working for MI6.
Did you conceive of The Infidel as a one-off film project or are you now going to concentrate much more on your film work?
Although I do occasionally drag myself out to perform (comedy), I see myself primarily now as a writer. I probably will direct if I get the chance. I am writing another film now - an American teen comedy. This was actually the idea of (Slingshot CEO) Arvind David. I also have a thriller called Humane about assisted suicide that I am writing for Slingshot.