Dir/scr: Jared Moshé. US. 2012. 93mins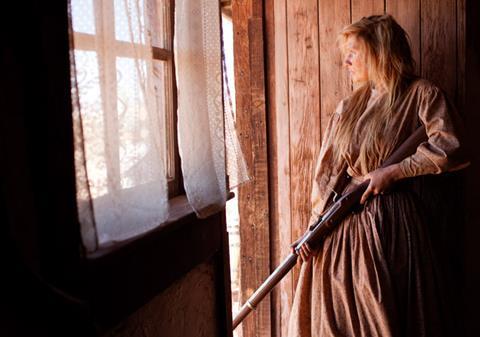 Though it sometimes wears its influences a tad too openly, Dead Man's Burden is still an atmospheric and emotionally satisfying indie western that could spark interest among serious fans of the genre. It also bodes well for the careers of its up-and-coming lead actors and first time writer-director Jared Moshé.
The film gets depth and scale from its war backdrop and gorgeously shot desert southwest locations.
After US festival outings in Los Angeles, the Hamptons and elsewhere, the film is set for a North American release through Cinedigm in the New Year. Overall international potential is probably limited but the presence of local girl Clare Bowen might warrant a push in Australia.
The drama is set in 1870 in the aftermath of the American Civil War. Having lost most of her family during the conflict, strong-willed Martha (Bowen, known from Aussie TV series including Home and Away) is living with husband Heck (David Call, from Tiny Furniture) on an isolated New Mexico homestead and dreaming of a better life in San Francisco.
When Martha's stoical war vet brother Wade (Shotgun Stories' Barlow Jacobs) comes home to investigate their father's recent death family secrets start to emerge, with lethal consequences.
Essentially a chamber piece - there are only five characters and very little horseback or gunplay action - the film gets depth and scale from its war backdrop and gorgeously shot desert southwest locations (captured on two-perf 35mm film, for an attractive wide-screen look).
Moshé - previously a producer, with credits including documentary Corman's World - occasionally lets the influence of classic westerns from Sergio Leone, Clint Eastwood and John Ford become a bit too obvious. But he shoots his well-structured screenplay with a sure sense of pacing and makes excellent use of the locations.
The darkly dramatic tone is enhanced by a nicely varied music score from H Scott Salinas (The Millionaire Tour).
Production companies: Illuminaria Productions
North American distribution: Cinedigm Entertainment Group
Sales: Submarine, www.submarine.com
Producer: Veronica Nickel
Executive producers: Jennifer Chikes, Ruth Mutch, Nick Quested
Director of photography: Rob Hauer
Production designer: Ruth De Jong
Costume designer: Courtney Hoffman
Casting directors: Danielle Aufiero, Amber Horn
Editor: Jeff Israel
Music: H Scott Salinas
Website: www.deadmansburden.com
Main cast: Barlow Jacobs, Clare Bowen, David Call, Joseph Lyle Taylor, Richard Riehle