Accepting a lifetime achievement award in Transilvania, Winger talks about her career, fracking and film vs digital.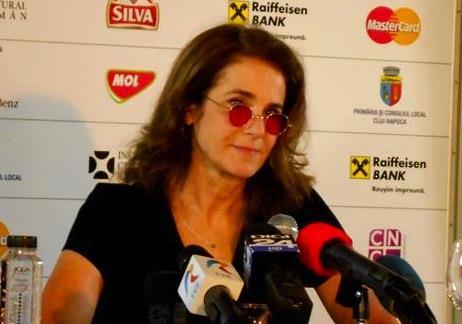 The Academy Award nominated American actress and producer Debra Winger recieved the Career Achievement Award at the 13th Transilvania International Film Festival in Cluj-Napoca this weekend. But she's got mixed feelings about such honours.
"First of all it's sort of been a superstition not to ever accept any award so I believe this one's the first I've accepted. And I'll probably pretend that I didn't," she said, adding that she wanted to come to Romania, to Cluj and to this festival and couldn't avoid to accept how they wanted to invite her. "It's just a heavy object, it will hold my door open," she joked. In recognition of the award, the festival has screened two of her most famous films: An Officer and a Gentleman (for which she was Oscar nominated) and The Sheltering Sky.
In her trip to Cluj, she observed that this was a 'festival goers festival.' "If other festival people come to this festival, you know it's good. So congratulations on that" she said. Because of her short stay, she confessed that she hadn't seen any Romanian features (but promised to watch some later).
The actress had visited the film warehouse that is currently being the subject of a salvation and restoration initiative. She said, "for those of use that remember film stock it really is sort of a metaphor."
That visit reminded her of making The Sheltering Sky — Bernardo Bertolucci started to edit the film in London at the moment when technology was changing and "you no longer needed to have actual celluloid on the cutting room and everybody was very nervous because he was having a hard time accepting this," Winger recalled. "So we had just a little bin in a corner filled with ends of film."
It also reminded her that we have to remember what has been lost in the digital age. "I remember the first film I did, in1979, the director brought me into the editing room and I remember watching him feed it through a moviola and he told me some of the best cuts are made by accident, when you are having to watch the film go backwards". She always tells her sons — who are both editors — that we have to find a way with digital to have happy accidents.
When Winger was asked how is it for an international star to come to a small town, she simply answered that she lives in a much smaller farming town in upstate New York — so that Cluj, in comparison, seems like a big city to her. Plus the concept of stardom has always been very hard for her: "I never have felt that way, I never pursued it, I never live it. I think the idea of celebrity is the downfall of an artist. So, I don't know what it's like for a star to live in a small town."
Inevitably, she was also asked about her refusal to star in certain films, a topic she has been asked about many times. The Internet doesn't help with misinformation. "One little fact starts at the top of the cyber mountain and by the time it rolls down like a big snowball it's got 70 facts attached to it that are not true," she says.
She says it's insulting to the actresses who did a wonderful job in the films she has turned down to dwell on such questions, and also that she was working on other projects during those years. "Of course you have to say no to something because you're saying yes to something else. So, I guess I always feel like when somebody asks me that question that they didn't like what I said yes to," Winger said. "I was already looking for something new in my life because I select my films or I used to select those roles to investigate something new. So, if I felt it was something I already did then, it wasn't interesting."
She said she had turned down some roles because she wanted to teach or write or spend more time with her children.
She was also asked about her fight with her Terms of Endearment co-star Shirley MacLaine. Winger laughed and said, "Honestly, this was 1985 that this happened! I mean, you know, it'd be like if you had an argument with your girlfriend or boyfriend in 1985 and people were still talking about it now." She thinks that they both deeply respect each other's work and they had the perfect relationship to be recorded for that film, "I fully expect to run into her in the next life and I'm sure we'll be fine", she joked again.
She also confessed that she was envious of European actresses when she went to a rehearsal of her friend's Hungarian play. "I think it would be the greatest gift in the world to be in a troupe of actors and that is all you do," she says. "You do plays at night, you rehearse during the day you are together, it's funded by the government by the country and that's to me an amazing thing that I missed", adding that women are permitted to age more gracefully in Europe. "We have this terrible facelift epidemic in the United States," she added.
Finally, on her anti-fracking fight, she said that there was a very serious issues about that in Romania and that so far, the only nation in this area that's banned fracking is Bulgaria, "If you listen to all the science, climate change needs our utmost attention very, very quickly we can't mess around with fossil fuels…so I don't think I need to tell you how easy it is to poison your water". Gasland, the Academy Award nominated documentary on which she served as consultant, documents the cities and towns that have already had their water supply destroyed.