Dir/scr. Sherry Hormann. Ger-Austria-Fr. 2009. 124 mins.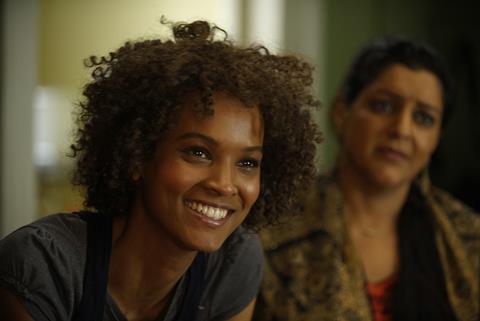 Desert Flower tackles an important and difficult subject – female circumcision – through adapting the memoirs of Somalian model Waris Dirie, a nomad-turned-fashion-icon who has led a truly extraordinary life. It's such a shame, given all that went into making it, that Desert Flower is so flat; it should somehow be more, but Sherry Hormann's workmanlike direction (from her own screenplay) robs the piece of much of its emotional impact until a brutal, late-in-the-day sequence which graphically depicts the genital mutilation of a five-year-old Dirie.
It moves from scene to scene as if the incidents were being ticked off a master list
This feels clumsily provocative – vultures gather over a hysterical toddler while a toothless old crone brandishes bloody implements - and sadly won't help a struggling film with its core audience. With media coverage practically guaranteed, however, and coming off a book which sold 11 million copies, Desert Flower should see some decent figures in urban art-house runs and will at least help continue to highlight this dreadful practice.
Early sequences, shot in Djoubiti (doubling for failed state Somalia), hold out promise, with young Waris shown with her beloved brother and family of goatherds. (Opening a film called Desert Flower – the translation of "Waris" - with a shot of a flower in the desert, however, is a clue to the subtlety of the piece). By the time Desert Flower has shifted to London, Hormann's camera has retreated to static mode, and the model's story must do the talking.
But hers is, without exaggeration, an incredible journey, and flashbacks from "present-day" London illustrate the extent of her travels. Waris (model Kebede) runs away from her family in Somalia to avoid an arranged marriage, walking by herself across the desert to Mogadishu, where her family finds her work as a maid at the Somalian embassy in London. She is kept as a prisoner there until a coup eventually sets her free to roam the streets where she encounters Top Shop sales girl and wannabe-ballerina Marilyn (Sally Hawkins), who brings her to stay in Pushpa's (Syal) hostel.
Waris then meets famous photographer Donaldson (Spall) while working as a cleaner at a fast food restaurant, finds an modeling agent in Lucinda (Stevenson), and becomes an international success. But with no papers, she is forced to enter into a unhappy marriage with odd-job man Neil (Parkinson) or be sent back to war-torn Somalia. And all the while, she is carrying a secret – although the film makes it very clear that she has been circumcised in Somalia before she spontaneously decides to go public to a magazine reporter.
Throughout, Hormann can't lick her story into a cinematic shape; it moves from scene to scene as if the incidents were being ticked off a master list. Having failed to create a natural climax – plot strands are left hanging pretty much everywhere – Desert Flower abruptly shifts to the graphic mutilation flashback at almost two hours in, and the film rapidly comes to an end with closing titles speaking of female circumcision but not of what has happened to Waris Dirie.
Throughout a shoot which runs from Djibouti to New York, London and Berlin, it's hard to discern Desert Flower's timeframe. It would appear to be set in the 1980s, but anachronistic touches abound – Lucinda talks about broadband, for example. It's not a fatal flaw to the film, but it is disconcerting throughout.
Making her debut as Waris, model Liya Kebede has a tough job: she's never really at ease here, and the camera is intensely focused on her in extreme close-up. Despite a €11 million budget, production values aren't particularly high and much of Desert Flower feels studio-bound and flatly-shot. Timothy Spall, Hawkins (still channeling Poppy from Happy-Go-Lucky) and Juliette Stevenson are enjoyably light relief. A very strange romantic angle with Harald (Mackie), whom Waris meets in a London club, goes nowhere either, but occupies more than its fair share of screentime.
Production companies
Desert Flower Films
International sales
The Match Factory
+ 49 221-539709-0
Producer
Peter Herrmann
Screenplay
Sherry Horman, based on the "autobiographic novel" by Waris Dirie
Cinematography
Ken Kelsch
Editor
Clara Fabry
Production design
Jamie Leonard
Main cast
Liya Kebede
Sally Hawkins
Timothy Spall
Juliet Stevenson
Craig Parkinson
Anthony Mackie
Meera Syal
Soraya Omar-Scego