Lu Haoran re-teams with Wang Baoqiang for a dynamic sequel set in the Big Apple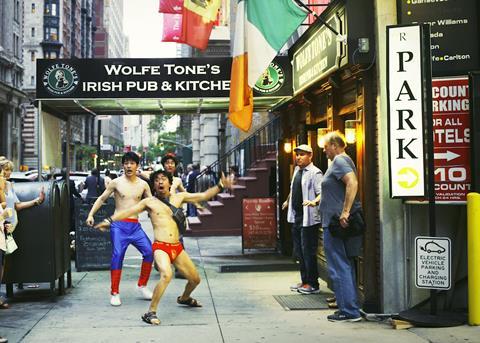 Dir: Chen Sicheng. China. 2018. 120 mins.
The youthful super-sleuth is becoming a fixture of Mainland Chinese cinema, whether it's Dee Renjie (Mark Chao) in Young Detective Dee: Rise of the Sea Dragon (2013) or Fang Mu (Li Yifeng) in Guilty of Mind (2017). But the similarly baby-faced Qin Feng (Liu Haoran) from Detective Chinatown (2015) has something that other fledgling masters of deduction do not – an opportunistic, shrieking, gold-toothed partner in "uncle" Tang Ren (Wang Baoqiang). This unlikely duo provides a comedic spin on Sherlock Holmes where the budding genius is near expressionless while his assistant is a shameless attention seeker with no social decorum whatsoever.
Detective Chinatown is fast becoming one of the most enjoyable series around
After the first film found the mismatched pair solving a locked-room murder mystery in Bangkok, this no-expense-spared sequel transplants them to New York to investigate a series of grisly ritualistic killings. Writer-director Chen Sicheng dials the original's lewd humor down a notch, but still mines stereotypes for easy laughs with Wang delivering his trademark high pitch comedic star turn. Detective Chinatown 2 will likely hurtle past its predecessor's impressive $126 million domestic gross over the lucrative Lunar New Year period while delighting diasporic audiences through a simultaneous overseas rollout.
The story picks up a year later with Qin Feng enrolled in the police academy, although his main focus is becoming the number one player on Internet mystery game Crimemaster. Arriving in New York to attend Tang Ren's wedding, he is enthusiastically greeted at the airport by his "uncle", who seems to be living the high life. However, Qin Feng discovers it's all a ruse when they arrive at the luxurious 'wedding venue', which is actually the residence of Uncle Seven (Kenneth Tsang), otherwise known as the "Godfather of Chinatown".
The ailing Uncle Seven has promised $5 million to whoever can solve the recent murder of his son, whose body was discovered in a Chinatown temple with his heart ripped out. Tang Ren has been unceremoniously dumped by his girlfriend in favour of a wealthy love rival and believes that winning the cash prize will enable him to woo her back. Uncle Seven only has a week to live, so the clock is ticking.
Also gathered at the mansion are some of the brilliant detectives that Qin Feng competes with on Crimemaster, notably blue-haired Hong Kong hacker Kiko (Shang Yuxian), Indonesian psychic Aaimali Kunara (Bai Ling), and Wild Bull Billy (Brett Azar), a muscular military veteran who makes Dog the Bounty Hunter look subtle. The coolly professional Detective Chen (Natasha Liu Bordizzo) provides official police department presence while striving to keep all the assembled egos in check. When it becomes apparent that the crime may be connected to another murder, a study of surveillance footage reveals the prime suspect, illegal immigrant Song Yi (Xiao Yang). The detectives set out to claim the prize, but Qin Feng thinks there is more than meets the eye to this seemingly open and shut case.
Having evidently taken notice that the trend in successful Hollywood franchises is not to necessarily go bigger but to expand, Chen allocates time to positioning the protagonists as part of a wider network of detectives. Satoshi Tsumabuki makes an early impression as Noda Hiroshi, who is very much Qin Feng's rival, only to exit prematurely, indicating a bigger role in the next installment. Signs that a 'detective universe' is being established make this sequel feel less spontaneous than the roaring original, which was precisely constructed yet barreled from one development to the next in deceptively shambolic fashion.
Forward planning doesn't necessarily spoil the fun with Chen confidently balancing procedural elements with knockabout comedy. Perhaps because of the logistics of shooting in the US, nothing here quite matches the first film's food fight at Bangkok's floating market or Tang Ren's slapstick police station escape. However, Chen makes playful use of Big Apple gridlock for a well-staged sequence that finds the characters clambering over vehicles while having their clothes torn in the chaos. Much of the hectic action takes place around Times Square with other touristic locations including Grand Central Station and the New York Public Library, while the subway system is an effective, if obvious, choice for a sinister late night encounter with the masked killer.
Amidst the pumping electro-rock score by Hu Xiaou and Nathan Wang, repeated use of Taylor Swift's hit song 'Welcome to New York' serves as a reminder that Detective Chinatown 2 is primarily targeting an audience that has a simplified knowledge of the US through pop culture exports. Almost every citizen is packing a gun, the cops spend all their time munching donuts, and the blustering police chief is a Trump caricature (despite the fact that the '45' didn't win the NYC vote). Still, it's all so brisk and boisterous that international audiences will happily go along with the lowbrow mockery.
As with the original, though, it's the yin and yang central pairing that gives this genre mash-up its zing. Wang gleefully plays Tang Ren as a careening buffoon to the extent that donning a chicken costume actually makes him less cartoonish, while Liu is the ideal foil, quietly suggesting the social awkwardness that makes Qin Feng more comfortable conversing with potential love interest Kiko through WeChat than in person. Individually, they would run the risk of being bland (Liu) or downright aggravating (Wang) but together bounce off each another to such priceless effect that Detective Chinatown is fast becoming one of the most enjoyable series around.
Production companies: Wanda Media Co., Ltd
US distribution: Warner Bros. Pictures
Producers: Chen Sengoi, Eileen Ling Gong, Sun Tao, Wang Haipeng, Ling Hong, Shawn Xiang Yue, John Zheng
Screenplay: Chen Sicheng
Cinematography: Du Jie
Editor: Tang Jongjia
Production design: Li Miao
Music: Hu Xiaou, Nathan Wang
Main cast: Wang Baoqiang, Liu Haoran, Xiao Yang, Natasha Liu Bordizzo, Michael Carmen Pitt, Shang Yuxian, Kenneth Tsang, Satoshi Tsumabuki.