Dir: Oliver Hirschbiegel. UK. 201. 115mins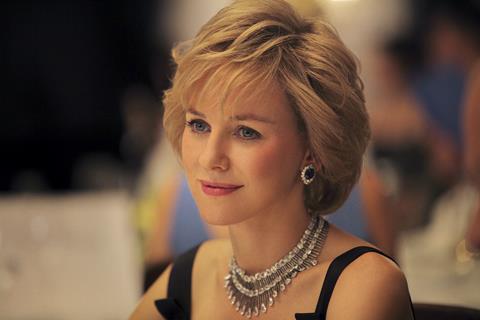 Diana is never going to be The Queen. A plodding project about a doomed love affair between the late British princess (Naomi Watts) and a Pakistani heart surgeon (Lost's Naveem Andrews) during the last two years of her life, it's studded by some truly dire dialogue – interesting, as the conversations are entirely invented (Diana is based on a book by Kate Snell, which was not written with the doctor's co-operation).
Downfall's Oliver Hirschbiegel seems uncomfortable in the world of romance.
"I've a right to be confused when I'm up against something as gorgeous as you!" Diana tells Dr Haznat Khan during one of their endless lover's quarrels. But as their relationship started when she asked him "can hearts actually be broken?", at least their conversations are consistently cringeworthy.
Diana is a very respectful, almost demure, project, clearly enamored of the 'People's Princess'. British-financed and flatly shot in a myriad of international locations, it presents Diana as a lonely Princess-singleton in her Kensington Palace isolation, looking for a love which is naturally impossible as she is "the most famous woman in the world" (like Julia Roberts in Notting Hill but with a car crash as a finale, as opposed to a chase).
Anchored by a brave performance from Naomi Watts, who problematically looks nothing like Diana, this film is of limited appeal in the UK and possibly US and Commonwealth territories. TV play should be good. Diana is unlikely to be anointed with The Queen-style reviews and awards success although Watts does give a very brave performance that should not be under-estimated given the poverty of the dialogue and the pressure of the part. The voice may not be entirely correct, but the timbre and attitude is.
Although Diana veers stickily towards hagiography, it does still, to its credit, touch on some of Diana's trickier aspects - her manipulativeness, neediness, and complicated relationship with the press.
What it doesn't do, however, is wrap them around a framework that is in any way compelling. Fundamentally, Diana is thin at its core – princess meets Muslim heart doctor, they conduct a relationship out of a car boot and around London's parks at night, and they quarrel. A lot. Attempts to give it weightiness through Diana's work on land mines and AIDS-related fundraising come across as slightly desperate, a little like the princess herself during her later years. And we all know the ultimate outcome, heavily reinforced by a prologue set in the Ritz in August, 1997.
Downfall's Oliver Hirschbiegel seems uncomfortable in the world of romance. Not being British would ideally loosen the constraints of dealing with the UK's "Queen of Hearts", but Diana is still very polite, apologetic even. It's also a film shot in a princess-shaped vacuum: there's no sign of Prince Charles, the young Princes William or Harry (apart from one shot on the tarmac), and her friends are restricted to the acupuncturist Oonagh Tuffolo (Geraldine James) and "Sonia" (Juliet Stevenson), punctuated by the occasional appearance of her butler Paul Burrell (Douglas Hodge).
It has been over 16 years since Diana, Princess of Wales died in Paris and there is undoubtedly a film to be made about her most extraordinary life. She herself tried to be relevant despite the constraints placed around her and largely succeeded despite the odds; a relevancy Diana struggles – and fails – to find.
Production company: Ecosse Films
International sales: Embankment Films, www.embankmentfilms.com
Producers: Robert Bernstein, Douglas Rae
Screenplay: Stephen Jeffreys from the book Diana: Her Last Love by Kate Snell
Editor: Hans Funck
Cinematography: Rainer Klausmann
Production designer: Kave Quinn
Main cast: Naomi Watts, Naveen Andrews, Douglas Hodge, Geraldine James, Juliet Stevenson