Dir: Abe Sylvia. US. 2010. 99mins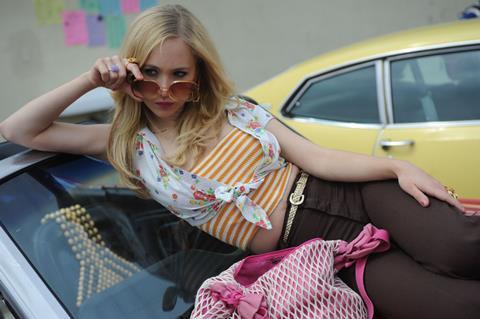 First time feature director Abe Sylvia, a former Broadway dancer and choreographer, brings a gleeful sense of human mayhem to his 1980s road movie, a rough-around-the-edges campfest-with-a-heart that should be one of the crowdpleasers at this year's TIFF. Set in 1987 and featuring a knockout of-the-era soundtrack that will send fortysomethings into a transport of nostalgia, Dirty Girl should have no difficulty connecting with upscale teen audiences – and their parents.

Sylvia knows doesn't take himself too seriously, bringing an infectious humour and playfulness to the proceedings at every turn.
While high school films like Saved!, Pumpkin and Pretty Poison tried too hard to lace their scenarios with caustic humour and shock tactics, Dirty Girl is in contrast a touching two-hander with a generosity of spirit that offsets its filthy language and no-holds-barred sex talk.

Sylvia's greatest asset here is his game performers – the fast-rising English starlet Juno Temple who throws herself into the role of high school slut Danielle with gusto, and brand-newcomer Jeremy Dozier as the overweight closet-case Clarke. He has also recruited a fine troupe of name actors in the ensemble including Mary Steenburgen, Dwight Yoakam, William H Macy, Milla Jovovich and Tim McGraw who don '80s fashions and hairstyles with conviction and add colourful support to the two young leads.

Danielle is the dirtiest girl at Norman High, Oklahoma, defying school prognostications that abstinence is cool and sleeping with every boy in class. Angry at the world and especially at her inane single mother (Jovovich), she is finally sent to Special Ed class for her outrageous behaviour. There she meets Clarke, a sensitive, friendless Melissa Manchester fan and the two are forced to team up for a school project where they have to act as parents to a bag of flour which they dub Joan (she after Jett, he after Crawford).

Clarke is bullied at school and taunted at home by his exasperated father (Yoakam). So when Danielle suggests they run away to find her father in California, he takes the plunge and joins her. The two outsiders take off in Clarke's dad's car; their trip will see Clarke lose his virginity, Danielle soften and both learn about themselves while Jean, the flour baby, looks on. Meanwhile their respective mothers (Steenburgen stealing scenes as Clarke's mother) go in pursuit.

Sylvia knows he is playing with tried-and-tested conventions and he doesn't take himself too seriously, bringing an infectious humour and playfulness to the proceedings at every turn. But when he needs to turn on the big emotions, he and his actors give it their all.


Production companies: Paris Films, Hart/Lunsford Pictures, Cherry Sky Films, The Salt Company, Ideal Partners
International sales: The Salt Company, www.salt-co.com
Executive producers: Ed Hart, Joan Huang, Christine Vachon, Pamela Koffler, Robert Bevan, Samantha Horley, Cyril Megret
Producers: Rob Paris, Jana Edelbaum, Rachel CohenScreenplay: Abe Sylvia
Cinematography: Steve Gainer
Production designer: Alan Muraoka
Editor: Jonathan LucasMain cast: Juno Temple, Jeremy Dozier, Milla Jovovich, Mary Steenburgen, DwightYoakam, William H Macy, Nicholas D'Agosto, Tim McGraw