EXCLUSIVE: The Toronto-based distributor has picked up Canadian rights to George Mendeluk's Ukranian genocide feature starring Max Irons, Samantha Barks and Terence Stamp.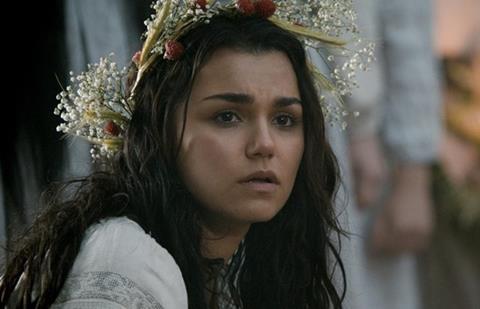 D Films plans an early 2017 theatrical release for the story of lovers caught in Joseph Stalin's murderous starvation of the Ukrainian people from 1932-1933 known as the Holodomor.
Barry Pepper and Tamer Hassan round out the key cast. Richard Bachynsky Hoover wrote the original story on which the film is based and collaborated on the screenplay with Mendeluk.
Roadside Attractions will release the film in the US in early 2017.
Canadian businessman Ian Ihnatowycz, whose family fled Ukraine in the 1940s, financed and produced Bitter Harvest.
Producing alongside Ihnatowycz were Stuart Baird, Chad Barager, and Jaye Gazeley. Bill Immerman, Peter Graves, Dennis Davidson and Hoover served as executive producers.
"Bitter Harvest is an epic tale of real people struggling against the atrocities of a brutal dictator," said Michael Robson, senior vice-president of acquisitions and business development at D Films.
"This is an important story – one that contextualises Ukraine's history and demonstrates the triumph of the human spirit in times of extreme oppression – that we are proud to bring to Canadian audiences."
Robson brokered the deal with Lawrence Meyers of Meyers Media Group on behalf of the filmmakers.
As previously reported by Screen, Meyers has licensed rights to Becker Film in Australia, Pandastorm in Germany and B&H Film Distribution in the Ukraine.
Arrow Films will distribute in the UK, while Tanweer will distribute in Turkey and Eagle in the Middle East.