Details have emerged of the international roll-out of Rainmaker Entertainment's animated feature that opens this weekend in North America and several key international markets.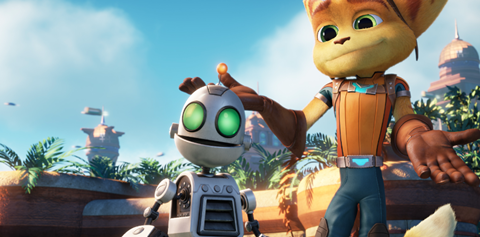 Ratchet & Clank, based on the PlayStation video game franchise and developed by Insomniac Games, stars the voice talents of Paul Giamatti, John Goodman, Bella Thorne, Rosario Dawson and Sylvester Stallone.
It opens across 2,890 screens in North America and is distributed in the US via Gramercy Pictures and in Canada through Universal Pictures Canada.
Cinema Management Group licensed international deals and the film debuts on Thursday in Germany (Constantin Film), Argentina (Sun Distribution), Brazil (PlayArte Films), CIS (All Media Company), former-Yugoslavia (Blitz Film), and Greece (Tanweer Films).
On Friday it ventures into the UK (Vertigo Releasing), Spain (Precision Comunicacion), Bulgaria (A Plus Films), Czech Republic and Slovakia (Indigo Films), Iceland (Sena), Middle East (Eagle Films), and Vietnam (Phuong Nam CC).
The film opened earlier in the month in France (LaBelle Company), Netherlands (eOne Benelux), Israel (United King Films), Poland (Kino Swiat), and South Africa (Times Media Films).
Ratchet & Clank will rollout on May 4 in Belgium (eOne Benelux), May 5 in Hungary (ADS Service), Portugal (Outsider Films) and South Korea (Joy n' Contents Group), May 13 in Indonesia (MVP, Soundspace International), May 25 in the Philippines (OctoArts Films), and May 26 in Chile (Sun Distribution), Malaysia and Singapore (Film Kingdom).
In June, the film will open in Australia and New Zealand (Village Roadshow) and Italy (Lucky Red), followed b Japan (IPA Asia Pacific) in August. Additional territories are yet to be announced.
The story centres on two unlikely heroes who struggle to stop the evil alien Chairman Drek from destroying every planet in the star system.
"Ratchet & Clank is the first feature film to have been produced in tandem with a video game, and it has been incredibly exciting to be a part of a constant flow back-and-forth among extremely creative talents, sharing assets with the goal of creating an extended experience for fans," said Rainmaker Entertainment president and chief creative officer Michael Hefferon.
"The movie and the new game complement one another, and we are confident that Ratchet & Clank will prove to be the full entertainment package for old and new fans alike."