Dir: Tobe Hooper. UAE. 2013. 86mins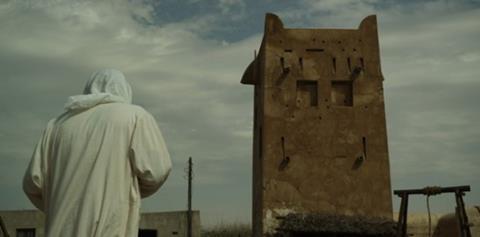 Tobe Hooper's much-anticipated and long in post production United Arab Emirates' set supernatural thriller Djinn finally had its world premiere at the Abu Dhabi Film Festival, delivering some nicely sustained spooky shocks, a shrewd sense of place and atmosphere and enough ghostly goings-on the keep genre fans happy. It is no gore fest – but then over-the-top bloodletting has never really been Hooper's trademark – but instead Djinn is a tight , taut and rather traditional supernatural tale.
The film is sensibly tight and short, and while offering little new in terms of effects, plot-twists or performance, Djinn is a watchable and generally enjoyable supernatural chiller.
There was initial high expectation around the film given it was set and funded in the UAE, produced by Image Nation and performed in both Arabic and English. Its theatrical release has been delayed since 2011 – leading to various rumours in the genre media – but the fact that it had its premiere at a sold-out ADFF screening points to loose ends finally being tied up and post-production at last completed.
Much has been made about the film being the first Emirati horror film (though recent low-budget films such as Lockdown: Red Moon Escape in 2012 and 2010's The Curse Of The Devil are also resolutely genre tales) with the region not having a deep tradition in horror films. But certainly the ghostly djinn only rarely crop up in films (apart from the Wishmaster series), though in their friendlier guise as genies they have long been fantasy film regulars.
The film opens with a little djinn background, explaining that these spiritual creatures exists in a world unseen by humans, but along with humans and angels make up three sapient creations of God. The scene-setter sees three men – one American and two Emirati – speed into the desert to eat and drink at an abandoned fishing village called Al Hamra, where legend has it the community was abandoned after malevolent beings haunted the inhabitants.
In a nicely staged sequence the three are attacked, with the American finally coming to a sticky end alongside his flash SUV, stalked by djinn who seem to have control over his car's central locking as well as appearing in a terrifying dark and misty shape, with sharp teeth and clawed hands.
The film then switches to New York, where couple Salama (Razane Jammal) and Khalid (Khalid Laith) are having counseling to try and get over the death of their baby. The therapist thinks they should move back to the UAE where Khalid (who has no parents, while she has family there) has been offered a big new job, and despite Salama's desire to stay in the US is worn down by the pair.
Returning home, it transpires his company has rented them a plush apartment in a new luxury but remote apartment block called Al Hamra, that – guess what – has been built on that old abandoned fishing village. Salama is increasingly unsettled in the strange new surroundings, eerie hallways, over-attentive security guard and their vampish neighbour Sarah (a suitably sultry Aiysha Hart) as she also has to try and deal with her sense of guilt over their child's death.
The scene is set for djinn to start preying on Salama and Khalid, with their plus apartment building an increasingly terrifying place as these dark spectres stalk them and bring terror and death,
The film is sensibly tight and short, and while offering little new in terms of effects, plot-twists or performance, Djinn is a watchable and generally enjoyable supernatural chiller. An attack on Salama's family's car is especially well staged; observing djinn via security cameras reminds of the Paranormal Activity films, and the design of the eerie apartment corridors helps ramp up the atmosphere. There is nothing massively distinctive about Djinn, but Tobe Hooper delivers solid horror thrills, given an additional realistic edge having been shot in the UAE and using local talent.
Production company: Image Nation Abu Dhabi
International sales: Fortissimo Films, www.fortissimo.nl
Producers: Tim Smythe, Daniela Tully
Screenplay: David Tully
Cinematography: Joel Ransom
Editors: Andrew Cohen, Mark Stevens
Production designer: Brentan Harron
Main cast: Razane Jammal, Khalid Laith, Aiysha Hart, May El Calamawy, Abdullah Al Junaibi, Carol Abboud, Carole Abboud, Paul Luebke, Ahmed Abdullah, Saoud Al Kaabi