Dir: Eric Bana. Aust. 2009. 92 mins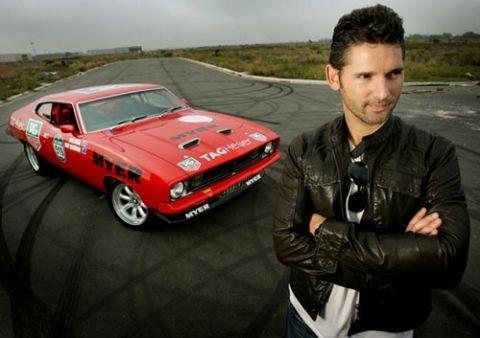 Actor Eric Bana's directorial debut is a documentary hymn of love to his first car, his Beast, a 1974 Ford Falcon XB coupe. Though sentimentality and a delight in his self-admitted obsessive behaviour often threaten to overwhelm the narrative, Bana's professional movie instincts always regain control, aided by noteworthy editing from Conor O'Neill. A sure thing for car enthusiasts (mostly male, you'd think), the feature has a dramatic structure of such intensity that non-sports-fans of either sex may well be hooked.
Bana has all the allure and confidence of a sex symbol
Well-chosen celebrities make pithy contributions: talk show host Jay Leno and pop psychologist Dr. Phil in the US, Top Gear's Jeremy Clarkson in the UK. The film's biggest asset, Bana, will blanket the world day-and-date in the first week of May as the chief villain on Star Trek.
An unexpectedly strong performer in Australia on its March 12 release, Love the Beast had taken $437,000 from 69 screens by the end of its third weekend. It plays the Tribeca Film Festival on April 29.
King Henry VIII or the Hulk aside, Bana here is just an Aussie bloke messing around with his mates. His unselfconscious ordinariness, even when cameras follow him to a manic 2007 Tribeca press conference, is appealing. Plus, of course, he has all the allure and confidence of a sex symbol. No mention is made of the funds, obviously considerable, that he has poured into the three major restorations of his beloved XB.
Beginning with a 1996 video clip from Bana's days as a stand-up comedian (not too impressive) the documentary is packed with photographs and home movies of the Banadinovic family in their semi-industrial Melbourne suburb. His father Ivan, German-born, is a beaming presence in the film and the obvious inspiration for Bana's devotion to 'muscle cars'. Ivan's own bright red 1967 Thunderbird sits under wraps in the family garage alongside the Beast, originally a gift (in 'shithouse' condition) to his then 16-year-old son. Equally important are Bana's three long-term friends - Tony Ramunno, 'Temps' Templeton and Jack Vukoja - devoted, relaxed, funny, the very embodiment of Australian 'mateship'.
Love The Beast's main focus is Bana's entering his super-renovated Beast in the Targa Tasmania, a five-day motor rally round the winding roads of the picturesque island state. With Tony as navigator, 'Temps' as manager and Jack as PR/dogsbody, Bana revels in the car-mad company of the gathered rev-heads and the high-speed risks of racing a 600 horsepower muscle car bristling with on-board cameras. 'Are you mad' All muscle cars are crap,' says Clarkson impolitely.
An unforeseen incident abruptly ends Bana's participation. It's a sobering moment, but eventually gives the documentary such a strongl before-and-after structure that the film would have been far less effective without it.
Editor O'Neill (Murder Ball, Hell On Wheels, Air Guitar Nation) has shaped real dramatic tension and excitement from the mass of footage available. A delightfully shaped coda back in the Melbourne garage has a Hollywood quality.
Production companies
Whyte House Productions
Pick Up Truck Pictures
International sales
William Morris Agency
Producers
Eric Bana
Peter Hill
Matt Hill
Cinematography
David Rose
Rod Pollard
Editor
Conor O'Neill
Composer
Yuri Worontschak