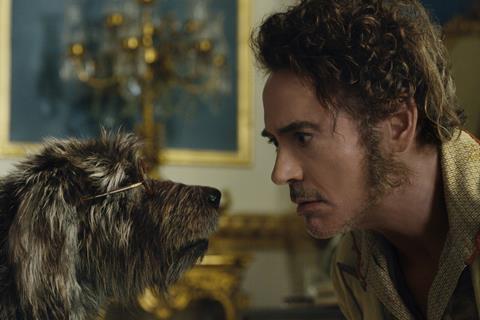 Dolittle starring Robert Downey Jr. led the box office in China on Friday (July 24) as cinemas returned to business, generating around $1.2m in a $2.9m day for the territory overall.
The family film earned RMB 8.5m from roughly 3,000 screens. It is understood that exhibitors presented half the number of usual daily shows, and seating capacity was at 30% due to social distancing protocols.
Action sci-fi Bloodshot starring Vin Diesel opened through Bona and earned in the region of $730,000.
Both sets of numbers are solid given that the films began their international careers months ago before the pandemic struck and will have been pirated.
Observers were heartened by the results given the restrictions in place and said the numbers demonstrated a desire for fresh content among local audiences.
Cinemas switched the lights back on in low-risk areas in China on Monday, and are reopening in low-risk parts of Beijing this weekend.
Paramount's Sonic The Hedgehog is set to open next Friday. This week Sony said Bad Boys For Life had been dated for an August 14 release.