Dir: Farhan Akhtar. India-Germany. 2011. 140mins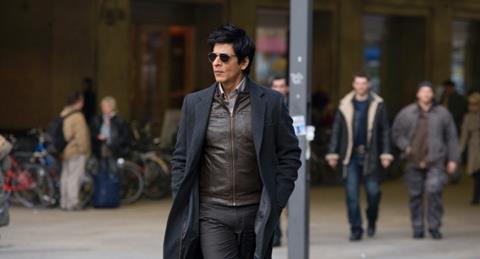 A snake-hipped Shah Rukh Khan reprises the title role in Don - The King Is Back, Farhan Akhtar's follow-up to blockbuster 2007 title Don (itself a remake of the 1978 Amitabh Bachan cult classic). Leather bomber jacket and Aviators to the fore, mercurial mastermind Don - "I'm like smoke!" - crosses Asia and Europe in a bid to break open new markets for his criminal empire, but despite extensive international location work, this film could have difficulty following suit.
Don - The King Is Back takes a tongue-firmly-in-cheek approach.
A tongue-in-cheek vehicle for a revitalised Khan, Don - The King Is Back was a smash hit in India and the international diaspora when it released in late 2011 and is rolling out again with a Berlinale relaunch (much of the action sequences were shot in the German capital).
With only one bone fide dance number, however, Don - The King Is Back is a puzzler for non-Indian audiences - its laconic pacing fails to punch through a 140-minute running time and some of dated Bond-style sets may sit awkwardly with viewers fed on Mission: Impossible (from which it liberally borrows).
If anything, Don - The King Is Back is most reminiscent of Jackie Chan's latter-day Golden Harvest blockbusters set on the international stage such as Who Am I?, with an impressively fit Shah Rukh Khan dominating the film's many action sequences and holding out the promise of an exciting second phase of his career.
The action, which can get pretty complicated for what is a simple heist yarn at heart, kicks off with a European gangster cartel deciding to put a hit on the ponytailed Don, whom we meet speeding in a power boat up a river in Thailand to meet with some double-crossing drug dealers.
The story then cuts to Malaysia (where the 2007 Don played out), and Interpol headquarters, where Detective Malik (Om Puri) is handing over the seemingly futile quest for drug dealing kingpin Don to his voluptuous officer Roma (Chopra).
Her mission progresses quite dramatically when Don bizarrely appear in Interpol's offices to turn himself in, however, which leads in turn to a convoluted international heist via Zurich and on to Berlin and the Euro-printing headquarters of the German central bank 'DZB'.
There's a chase through the Tiergarten, a pile-up at the Brandenberg Gate, and an undeniable attraction between Don and Roma, even though he (a) killed her brother in the last film; (b) has a sexy chanteuse girlfriend (Dutta); and (c) Roma doesn't always recognise him, especially when he turns up at a formal dance in a mask, a Face/Off tribute with Hrithick Roshan making an unexpected cameo. Boman Irani and Nawab Shah also show form as Don's shifty henchmen.
Through all the twists and turns, Don - The King Is Back takes a tongue-firmly-in-cheek approach, hailing its 1978 antecedent in a charmingly cheesy nightclub song-and-dance number with Khan mugging for the lens as if his life depended on it.
Somehow, though, the exotic international locales of Don - The King Is Back are dimmed in the end by an over-extended finale in a subterranean bank vault with sparse sets and unadventurous lighting. The young Farhan Akhtar, whose father is credited with the dialogue, directs competently, if not stylishly, although he's not shy to use slow-mo or jump-cuts whenever the mood takes him. Music credited to Shankar-Ehsaan-Roy drives the action through on a stylishly repetitive note.
Production companies: Excel Entertainment, Reliance Entertainment, Film Base Berlin
International sales: IM Global, www.imglobalfilm.com
Producers: Ritesh Sidhwani, Sha Rukh Khan, Farhan Akthar
Screenplay: Farhan Akthar, with dialogue by Javed Akhtar
Cinematography: Jason West
Production designer: TP Abid
Editor: Anand Subaya
Music: Shankar-Eshaan-Roy
Main cast: Shah Rukh Khan, Priyanka Chopra, Lara Dutta, Kunal Kapoor, Boman Irani, Om Puri