EXCLUSIVE: Chilean genre master Patricio Valladares is in early talks with potential US and European co-producers on a feature based on indigenous myth.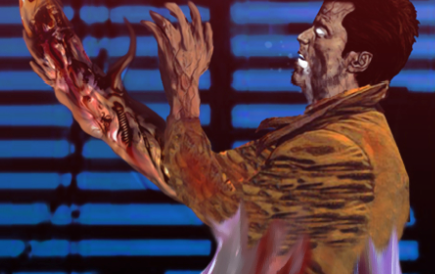 The Trülke wekufü is a grotesque creature of Mapuche legend said to inhabit lakes, lagoons and rivers in Chile's Bío Bío region.
Made from the skin of several different animals and exhibiting tentacles where the head should be, the beast hunts animals and on occasion humans and sucks dry any prey unfortunate enough to cross its path (concept art pictured.)
Valladares, who collaborated with Paris-based WTFilms on international sales on thriller Downhill, has secured the services of Chilean production services company BYV Media.
The filmmaker told Screen he planned to shoot the feature in the Bio Bio region where the monster as a cross between Porky's and Friday The 13th.
Valladares recently shot Nightworld, which VMI Worldwide has been screening to international buyers at the EFM in Berlin. Jason London and Robert Englund star in the story of a former police officer working as a security guard at an old apartment building in eastern Europe possessed by a malevolent force.
The Chilean's directing credits include Hidden In The Woods and he is preparing body-horror feature Embryo, which centres on the fallout from the Chernobyl nuclear reactor disaster and will star regular collaborator Natalie Burn from Downhill.