Independent British comedy finds success with innovative release. Screen talks to the film's director James Rouse.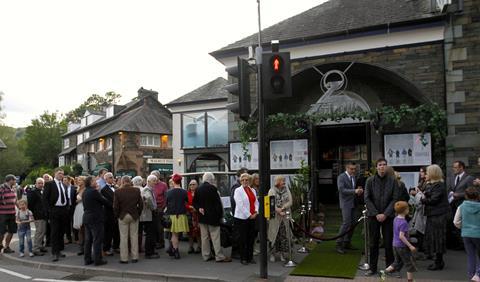 Being turned down by every sales agent and distributor often marks the end for a film's release, but for James Rouse's Downhill it was only the beginning.
Highly positive test screenings convinced Rouse and producer Benji Howell to embark on an innovative release, involving everything from film-themed blister plasters to free pints of ale.
"We had a very targeted approach, using our limited marketing funds to talk to a group of people who don't normally get talked to about film: the walking community," recalls Rouse.
"Although we never set out to make a film for walkers, the advantage of targeting walkers is that they're an incredibly enthusiastic, lovely bunch of people. We made it our objective that if you're doing any of the major UK walks in 2014, you'd hear about Downhill."
The film-makers did that in a variety of ways including, but not limited to, luggage tags, beer mats, Downhill Mint Cake and a spoof advert online selling one of the character's walking boots for £32k. Even the green carpet premiere was walking themed with sheep and a dress code of 'black tie and walking boots'.
"We caught the walking community's imagination and enabled them to talk to their friends and spread the word," explains Rouse. "And because Downhill is a story about real people with real problems, rather than just walkers, a varied audience began to gain interest in its release."
Positive reviews followed from the likes of The Times, The Guardian and even Stephen Fry.
The result? During its limited theatrical run, the film was rebooked into every cinema that came on board in the first wave (including the Empire in Leicester Square) and in Cumbria, the film was outselling Edge of Tomorrow. Currently, cinemas are still booking into August.
Its online release since has also proved strong, with the film hitting the number one spot on the iTunes independent film charts.
And international prospects look bright, with interest from several markets and Rouse receiving almost daily requests from new countries, some of them "quite unexpected".
So would Rouse do it all over again? "Absolutely. It was a huge amount of work, but worth it every time, and great fun to do. It allowed the whole campaign to have a personal touch," states the director.
"In comparison to a Hollywood blockbuster our budget was minuscule, so you have to think very hard about how you use every penny. It forces you to be more creative - we were never going to be on the side of a bus - which can only be a good thing.
"We got to give the film the very best chance simply by working ourselves silly, fuelled by the passion of the key people who made the movie in the first place."