One of the UK's most commercially successful producers, Ealing Studios chief Barnaby Thompson has ambitious plans to bring a slate of big-budget commercial films to the independent marketplace. Geoffrey Macnab reports.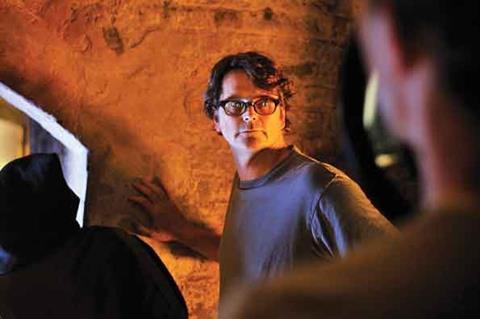 Head of Ealing Studios Barnaby Thompson raised eyebrows in Cannes this May when he declared he wanted to step into the breach left by New Line Cinema's exit from the indie market. "We're interested in finding bigger, glossier movies," Thompson said. "What we are finding is that those old New Line distributors and others are desperate for those bigger movies. They all need films they think they can mass market."
During Cannes, Ealing announced a raft of big-budget projects including the $35m Dustin Hoffman thriller Nightwork and the similarly budgeted thriller All That Glitters, about the hunt for a necklace that once belonged to Helen of Troy. The idea was clearly to follow the New Line model and pre-sell such movies through Ealing's international sales arm, which was launched three years ago. Other Ealing films, such as John Landis' comedy Burke & Hare (currently in post), Nina, a Nina Simone biopic which will star Mary J Blige, and the Emma Thompson-scripted costume drama Effie, are similarly ambitious.
With distributors clamouring for such larger-scale titles, Thompson — who also co-directed the two St Trinian's films — sees a clear opportunity. As Ealing's managing director James Spring points out, it is still possible to finance films on this level in a "traditional" way — through pre-sales, co-production deals, tax credits and bank debt — as there is such demand for them. "Strangely, those bigger projects have a greater simplicity about them," Spring says. "The smaller movies are actually the ones where it is more difficult."
Ealing today has a close — though not exclusive — relationship with Entertainment Film Distributors, whose managing director Nigel Green was an early champion of Ealing's decision to update the St Trinian's franchise. "He was always passionate about it and supportive — and there were a lot of people who thought it was a ridiculous idea," Thompson recalls.
On Burke & Hare and St Trinian's 2: The Legend Of Fritton's Gold, the company also worked with Prescience's Aegis film fund which lends against the tax credit and pre-sales while also offering gap financing. Films such as All That Glitters and Nightwork are likely to be put together as co-productions, taking advantage of soft-money opportunities that may be available as a result. It is also conceivable that Ealing will work with studio partners and US producers on its higher-profile projects.
The idea of Ealing providing international buyers with a steady flow of big commercial projects is not as far-fetched as it may appear. Thompson has consistently shown he has a knack for delivering populist mainstream fare and his films have grossed more than $500m worldwide.
From Wayne's World to Ealing
It is more than 25 years since Thompson set off to Afghanistan with a book called How To Make A Film and $2,000 in his pocket. So was born Thompson's Refugees Of Faith, a documentary he eventually sold to Channel 4, launching a career which now sees him as one of the most commercially successful producers of his generation, with credits ranging from Spice World to The Importance Of Being Earnest.
In the mid-1980s, Thompson worked for producer Mark Forstater, best known for Monty Python And The Holy Grail, on various low-budget UK films, before setting up his own production company, World's End Productions. "It was pretty awful," Thompson recalls of the UK film industry he encountered back then. "I felt there were about eight films made a year. Jeremy Thomas made a film, Merchant Ivory made a film and there were four or five others." The highlight of this period in his career was Dear Rosie in 1990, an Oscar-nominated short he made with Peter Cattaneo, who later directed The Full Monty, and Peter Morgan, who later wrote The Queen and Frost Vs Nixon.
When the opportunity came to move to the US in 1990 to work with Lorne Michaels, the creator of Saturday Night Live, Thompson took it with alacrity. Michaels had landed a producing deal at Paramount and hired Thompson to run his movie division. "That was really the game changer," Thompson says of the job offer which soon saw him associate-producing Wayne's World.
From the outset, Thompson has taken an overtly commercial approach to film-making which did not always chime with that of his British contemporaries, and when he returned to the UK in 1996 he set out to apply some of the lessons he had learned in Hollywood. Together with his business partner Uri Fruchtmann, he set up Fragile Films in the autumn of 1996, joining with pop impresario Simon Fuller to make Spice World, a movie in the vein of A Hard Day's Night, starring chart-topping pop group The Spice Girls. "They went to number one in America. Everything fell into place," Thompson says of the film. An Ideal Husband and Kevin & Perry Go Large, also box-office successes, followed soon afterwards.
When Thompson heard Ealing Studios was up for sale in 2000, he was quick to respond. "Uri and I came down here on a whim — certainly a whim for me. I thought, 'Wouldn't it be nice to own Ealing Studios,'" he recalls. Fruchtmann enlisted developer Harry Handelsman of The Manhattan Loft Corporation. San Francisco-based businessman John Kao also came aboard. "It started becoming a reality," Thompson says of the unlikely takeover of one of the most celebrated names in UK film history. "The idea of rebuilding a famous brand seemed a smart thing to do."
Investment in expansion
Ealing is not just a film studio: the idea was also to diversify into the facilities and property businesses. "We were able to use some of the money we made from Spice World to invest in the studio," explains Thompson. He acknowledges that he had "no idea what I was getting into", and it took "two or three years" to get used to being head of a studio.
The first film under the new Ealing label was Oliver Parker's adaptation of The Importance Of Being Earnest in 2002. Since then, Ealing has made thrillers (Fade To Black), animation (Valiant) and a host of comedies and literary adaptations, such as Easy Virtue and Dorian Gray. Forthcoming projects include an updating of 1954's Doctor In The House and a new St Trinian's film, likely to be called St Trinian's Versus The World. There is also Fishermen's Friends, a yarn firmly in the vein of old Ealing comedies, about Cornish fishermen who score chart success singing sea shanties.
Not all of Ealing's efforts to date have been box-office successes however. Lowish-budget UK comedies such as Alien Autopsy and I Want Candy were not especially well received, though Thompson defends them and adds that both films did reasonable business.
It is now just over three years since Ealing launched its own sales arm under Natalie Brenner (formerly of J&M, FilmFour, IAC and Element X). For Thompson, branching out into international sales was a natural step. "There were distributors out there who had distributed several of my movies successfully and we'd never met them," he says. "That just seemed to be a peculiar state of affairs. And we discovered — though it wasn't part of the plan — that having the sales team as part of the development process is very helpful. Also, it helps you control the financing of your films."
Like others in the UK, Thompson does not depend on broadcaster and public money. "The real challenge is that we need to encourage equity investment in movies and to encourage banks to get back into the business," he insists. "If you base your films round the Film Council, Channel 4 and the BBC, the truth is there is just not enough money there to make many movies."
BARNABY THOMPSON
■ Born in London in 1961. Studied theology and philosophy at Oxford University.
■ Made documentary Refugees Of Faith in 1984 and set up World's End Productions in 1986.
■ Head-hunted by Lorne Michaels to work as vice-president, creative affairs at Broadway Pictures in New York and Los Angeles in 1990. He went on to co-produce The Kids In The Hall, Tommy Boy, Wayne's World 2, Coneheads and Lassie and was associate producer on Wayne's World.
■ Returned to the UK in 1996, co-founding Fragile Films with Uri Fruchtmann.
■ Part of the consortium which acquired Ealing Studios in 2000, with Fragile Films becoming the studio's production arm.
■ Produced and co-directed St Trinian's in 2007, and the 2009 follow-up St Trinian's 2: The Legend Of Fritton's Gold.