Dir: Will Gluck. US. 2010. 93mins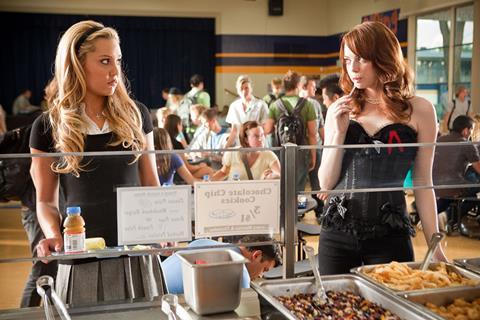 Sassy but also sincere, Easy A is an immensely likeable high-school comedy powered by an appealing lead performance from up-and-coming actress Emma Stone. Taking its inspiration from Nathaniel Hawthorne's classic novel The Scarlet Letter – not to mention the films of John Hughes – director Will Gluck's film doesn't entirely reconcile its conflicting desires to be both a realistic teen comedy and a fizzy fantasy of adolescent life, but with ample help from a strong supporting cast, Stone's star-making turn helps smooth over the movie's rough edges.
Easy A exudes such good humour that it's a Herculean task to resist the film's easy charms.
Opening domestically September 17 after its premiere at the Toronto Film Festival, Easy A offers two attractive selling points: its high-school milieu and Emma Stone's fresh-faced performance. Stone has enjoyed supporting parts in everything from Superbad to Zombieland, but this Sony offering will be her first legitimate starring role. Good word-of-mouth and favourable reviews should help, and turns from Stanley Tucci and Patricia Clarkson in small roles may nudge older viewers into the multiplex.
Olive (Stone) is a smart, emotionally mature 17-year-old who feels like an outsider among her shallow schoolmates. As a way of getting out of going away for the weekend with her best friend Rhiannon's (Aly Michalka) family, Olive lies that she has a date with a college student, which only leads to more lies when she later allows her pal to think that the imaginary suitor took her virginity. Once the rumour starts spreading around school, Olive discovers what a double-edged sword the lie can be, both making her more popular but also bringing about unexpected consequences.
Director Will Gluck (Fired Up!) has made his name as a TV sitcom writer, and although Easy A's screenplay is credited to Bert V. Royal, one suspects that Gluck's ease with crafting zingy dialogue has served him well in guiding his sharp cast through the film's tart lines. While The Scarlet Letter becomes a touchstone for Olive, who begins to identify with Hester Prynne's sense of ostracism in a society that holds women to a different moral standard than men, Easy A doesn't travel the same path as an earlier generation of high-school films (such as 10 Things I Hate About You) that too cleverly tried to graft classic narratives onto contemporary scenarios.
The film walks a delicate tightrope between being irreverent and genuine in its portrayal of Olive's life. In many ways, Easy A wants to seem more honest and sophisticated than its teen-film peers, overtly calling out the romantic, idealized hokum peddled in earlier movies like Say Anything and Sixteen Candles. But at the same time, the filmmakers fall back on other clichés to forward their story, the most obvious being that Olive (just because she's brainy) has somehow never been asked out on a date, despite the fact that she's clearly attractive and is quite outgoing. Along the same lines, Easy A follows in the footsteps of so many youth-leaning TV dramas and films by populating Olive's school with an abundance of gorgeous, clever, well-dressed actors who often seem too old for their roles, which undercuts the movie's claims of wised-up realism.
These problems detract some, but Easy A exudes such good humour that it's a Herculean task to resist the film's easy charms. This, in part, is a testament to Stone, who breezily transitions between Olive's different emotions as the lies about her promiscuity find her helping out other outcasts in unanticipated ways, while at the same time threatening her chance at a legitimate relationship with a sensitive classmate (Penn Badgley). Occasionally, the script can become too satisfied with its hip zingers, but Stone remains a sexy, empathetic force throughout.
While Stone's fellow young actors all acquit themselves nicely – particularly Badgley and Amanda Bynes as a comically insufferable Bible-thumper – this is that rare teen comedy where the adult performances display genuine feeling. Stanley Tucci and Patricia Clarkson are simply fantastic as Olive's lenient-but-responsible parents who have always treated their daughter with respect while retaining the vitality in their own marriage. Elsewhere, Thomas Haden Church and Lisa Kudrow are nicely understated as married school employees – one a teacher, the other a guidance counsellor – whose differing mentoring styles bring about one of the film's most surprising and poignant moments.
Production companies: Olive Bridge Entertainment
Domestic distribution: Screen Gems, www.sonypictures.com
International distribution: Sony Pictures International, www.sonypictures.net
Producers: Zanne Devine, Will Gluck
Screenplay: Bert V. Royal
Cinematography: Michael Grady
Production designer: Marcia Hinds
Editor: Susan Littenberg
Website: www.letsnotandsaywedid.com
Main cast: Emma Stone, Penn Badgley, Amanda Bynes, Thomas Haden Church, Patricia Clarkson, Cam Gigandet, Lisa Kudrow, Malcolm McDowell, Aly Michalka, Stanley Tucci