Dir/scr: Pablo Fendrik. Argentina-Mexico-Brazil-France-US. 2014. 101mins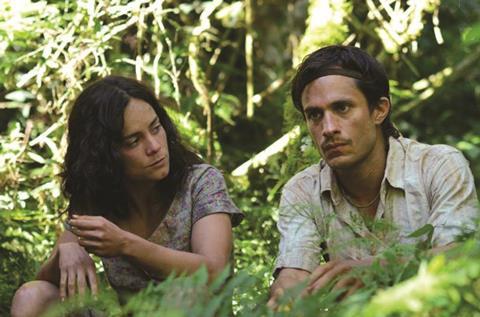 Pablo Fendrik sets up his third feature as a classic Western with the action transposed from the dust of the Wild West to the lush tropical rainforest surrounding the Parana River in Argentina. The Man With No Name is Gael Garcia Bernal (although his mystery diminishes as the film goes along), and he rises topless out of the swirling river to deliver the suffering locals from the tyranny of the land-grab.
El Arbor looks bewitching, the banks of the Parana River shrouded in mist and vegetation.
Bernal, who also produced through his Canana label, is all flinty stares and retribution, although El Ardor toys with mystical, folklorish elements to lesser effect. The result is an atmospheric if slightly plodding jungle revenge romp, reuniting Bernal with his Motorcycle Diaries paramour Alice Braga. Set for a decent theatrical haul in Latin markets, El Ardor's paper-thin plotting and slow pace for the genre may deter brisk business in the international arena, but it's a handsome production nonetheless.
Fendrik, whose first two features appeared in Cannes Critics Week (Blood Appears, 2007 and The Mugger, 2008) directs from his own script. The settlers on the banks of the Parana are clearly not-indigenous, speaking Spanish and drinking mate, but despite his tattoos, neither is Bernal. "You belong here," he tells a farmer called Joao (Chico Diaz) who is being menaced by mercenary thugs who are burning the land on behalf of Big Farming.
They bloodthirsty invaders want to plant soy and set up a processing plant, says Joao, before he is forced to sign his deeds away and is savagely murdered in front of his daughter Vania (Braga).
Bernal, whose name is later revealed to be Kai, has much local knowledge. He can make a poultice out of boiled snake and herbs to heal a gunshot wound, and he smokes some serious indigenous weed to go into a mystical trance, while at the same time enjoying a rapport with the local wild jaguar.
All this proves to be beside the point, however, as the film is constructed as a set genre piece. Kai tracks the villains through the jungle, he sets up a trap, they come to find him, and pretty soon it's Gunfight at the OK Corral no matter what the river spirits might be saying.
There are some glaring inconsistencies in El Ardor: Kai has several opportunities to kill the thugs, but refuses, only to change his mind later in the piece without further explanation. Vania, meanwhile, isn't too bothered that Kai stood by and let her father be murdered – she finds him so attractive, they're soon having sex in a tropical rainshower. And who can blame her? Kai rarely has his shirt on and he has clearly been working out.
In its favour, El Arbor looks bewitching, the banks of the Parana River shrouded in mist and vegetation. Cinematographer Julian Apezteguia switches tack to handle the showdown gunfight in a classic, dust-driven Western manner, and the interludes featuring the local jaguar are particularly attractive.
Production companies: Magma Cine, Participant Media, Canana, Bananeira Films, Manny Films, Telefe, Aleph Media
International sales: BAC Films, www.bacfilms.fr
Producers: Gael Garcia Bernal, Juan Pablo Gugliotta, Nathalia Videla Pena
Cinematography: Julian Apezteguia
Editor: Leandro Aste
Main cast: Gael Garcia Bernal, Alice Braga, Claudio Tolcachir, Chico Diaz, Jorge Sesan, Lautaro Vilo, Julian Tello