Dir/scr: Rebecca Thomas. US. 2012. 93mins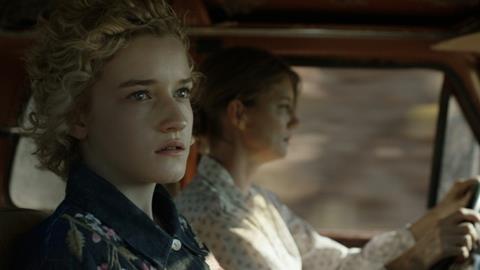 Witness meets Almost Famous in Rebecca Thomas' Electrick Children. Though it never quite lives up to the brilliance of its eminently pitchable premise – 'Mormon girl believes she has been made pregnant by listening to a pop song' – this is a cute and likeable film with a well-curated indie rock soundtrack and an easy young-audience appeal. It rises above some frankly absurd plot twists and a weak second act partly thanks to a radiant central performance by Julia Garner, partly to the intriguing way in which the writer-director plays a film with the bone structure of a comedy as a serious drama.
There's a solid core to this magical realist coming of age tale that smooths over the odd bump.
Picked up by Revolver and Picturehouse for the UK in Berlin, where the film opened the Generation section, Electrick Children is a self-consciously stylish commercial-arthouse number targeted at an 18 to 40 urban demographic, and as a result may end up doing as much business on DVD and online platforms as it does theatrically. After its Berlin premiere it will travel to SXSW – an obvious showcase for such an MTV-generation, music-oriented product.
Shot in nostalgic desaturated colour, the opening sequence sets true believer Rachel (Garner) in her home context: it's her fifteenth birthday, and she's being 'interviewed' by her father (Zane), a Mormon pastor, in a family confirmation ceremony, with the aid of a cassette tape recorder – a contraption Rachel has never seen before. The director herself grew up in the Mormon faith, and although she dresses Rachel and her family in Little House on the Prairie togs and makes them positively Amish in their attitude to technology, they're shown as a loving unit with nothing especially creepy or cult-ish about them. But the religion's authoritarian, patriarchal nature will become increasingly evident as the film proceeds.
Sweet but also strong-willed, Rachel later discovers the forbidden cassette recorder, and slips on a tape with a cover version of Blondie's Hanging on the Telephone which brings on a knee-wobbling epiphany. She believes the song has made her pregnant – and when her skeptical mum (Watros) finds Rachel really is knocked up, she suspects Rachel's pious, grandpa-shirted brother Mr Will (Aiken) of having committed the act. Pa immediately orders an arranged marriage for Rachel and exile for Mr Will – at which point his daughter drives off in the family pick-up truck with Mr Will conveniently concealed under a tarpaulin in the back.
The siblings end up in Vegas, where Rachel sees beauty in vulgarity and enchantment in flashing neon. Convinced that the man who sang the song is the father of her child, she homes in on the first guitar-toting rocker she finds – grungy skater boy Johnny (Amedori), though it's his friend, dropout rich kid Clyde (Culkin) who seems most interested in her. Mr Will tags along reluctantly, concerned only to persuade Rachel to confess, to tape, who really put a bun in her oven, so he can clear his name.
Nothing in the rest of the film quite lives up to the promise of its premise. But some laid-back situation comedy is squeezed out of the 'traditionalist Mormon kids meet wasted Vegas youth' face-off, and the film tries – mostly successfully – to pass off its more unlikely twists (such as one involving a red Mustang) as somehow generated by the fairy-tale that the visionary Rachel is telling herself. She's innocent without being remotely stupid, and it's her unwavering confidence in the truth of her story that carries us through, and brings angelic solace to the mixed-up characters she meets along the way.
There are a few directorial ingenuities: some pretty-pretty montage sequences, a tendency to shift to elegiac mode before the privilege has been earned, inconsistency in the use of the taped diary that provides Rachel's running voice-over commentary (there's one entry she couldn't possibly have recorded after the fact). But there's a solid core to this magical realist coming of age tale that smooths over the odd bump.
Production company: Live Wire Films
International sales: m-appeal, www.m-appeal.com
Producers: Richard Neustadter, Jessica Caldwell
Cinematography: Matthias Troelstrup
Editor: Jennifer Lilly
Production designer: Elizabeth Van Dam
Music: Eric Colvin
Main cast: Julia Garner, Rory Culkin, Liam Aiken, Bill Sage, Cynthia Watros, Billy Zane