Dir: Malgoska Szumowska. France-Poland-Germany. 2011. 98mins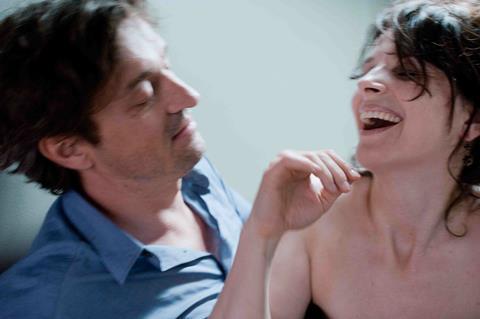 Talented Polish director Malgoska Szumowska packages an earnest feminist message in an artsy, glossy, sexually explicit package in her first mid-budget international film, Elles. The film stars Juliet Binoche as a journalist from the upper echelons of Parisian society whose outwardly rich yet inwardly trapped existence as a wife and mother is put into stark perspective when she begins to interview two young student girls from less privileged backgrounds who are turning tricks to finance their studies.
The film is perhaps too even-handedly in love with the sisterhood it portrays.
It's obvious right from the start that sisterly bonding is on the agenda, and the film makes little attempt, either, to disguise its cut-out-and-keep argument: that women can prostitute themselves for men in all sorts of different ways, not just in sex/money exchanges.
Still, the Binoche angle, the slickness of the package and the gentle buzz of controversy generated by the tastefully graphic sex will reap an audience for this multi-partner co-production in several territories. And there are compensations in a film that lets its message dominate its drama: the two part-time hookers are well-written and well-acted, and there's some intelligently entertaining questioning of the journalist's right to intrude in other people's lives the name of truth. But in the end Elles lacks the moral and emotional finesse of Stranger (Ono), Szumowska's previous film.
In story terms, both Stranger and Elles owe a debt to Szumowska's compatriot Kieslowski – which perhaps explains the casting of Binoche. The French actress is fine in the role, in her usual slightly heightened way, but there's something a little jarring about her star aura in a film that (unlike, say, Kiarostami's playfully post-modern Certified Copy) doesn't have any good use for it. Another nod to the master is a soundtrack of obtrusive classical music (in particular, a repeated passage from Beethoven's Seventh Symphony) that courts seriousness a little too needily.
Binoche plays Anne, a journalist with French Elle magazine, who alternates art and fashion features on the likes of Tom Ford with more hard-hitting investigations – like the 'student prostitute' piece she's currently working on. She lives in an upscale designer apartment in Paris with her businessman husband (de Lencquesaing) and two sons – one a spoiled late-teen truant, the other a Gameboy-obsessed ten- or eleven-year-old.
All her men make demands on the life of this increasingly frazzled woman: her husband expects her not only to be a perfect sexual partner and a cultured working woman but to cook dinner for his boss, her kids take her (and their cushy lifestyle) for granted, and even her ailing father needs a foot massage. Even the household appliances (like the fridge, its non-closing door a recurring gag) seem to conspire against her.
Played out over 24 hours between two family breakfasts, the film follows Anne – sometimes in extreme hand-held close-up, sometimes from a distance – as she interviews two girls for her feature. One, Lola a.k.a. Charlotte (Demoustier) is a pretty French thing from a working-class family; the other, Alicja (Kulig) is a Polish girl who, it turns out, is in France studying economics. As Anne questions the girls, we see flashbacks of their lives, at home, in the university, but mostly with the older men they service.
Another message surfaces here: that we should not assume, as Anne does initially, that these girls are exploited, or not in control of their lives; Lola/Charlotte is a fresh-faced rose who seems at first to have an uncomplicated enjoyment of sex, while Alicja (easily the film's most intriguing character) is a pugnacious, smart party girl.
At the same time though, the script seems scared to take this line too far: a scene in which Lola/Charlotte is raped by a client with a champagne bottle feels like a politically correct insurance clause. In the end, the film is perhaps too even-handedly in love with the sisterhood it portrays, balancing, for example, Anne's bourgeois arrogance with her own high-class version of indentured slavery, and failing to give the characters their own breathing space.
It's perhaps no coincidence that some the best scenes – a meeting between Alicja and a student of Arab origins who lives in some distant banlieue, or a scene in which a client who has just urinated on her serenades her with a romantic guitar ballad – are those that forget, briefly, that they have an agenda.
Production company: Slot Machine
Co-production: Zentropa International Poland, Zentropa International Koln, Canal + Poland, ZDF Shot Szumowski, Liberador Produtions
International sales: Memento Films International, www.memento-films.com
Producer: Marianne Slot
Executive producer: Olivier Guerbois
Screenplay: Tine Byrckel, Malgoska Szumowska,
Cinematography: Michal Englert
Editor: Francoise Tourmen, Jacek Drosio
Production designer: Pauline Bourdon
Main cast: Juliette Binoche, Anais Demoustier, Joanna Kulig, Louis-Do de Lencquesaing, Francois Civil, Pablo Beugnet