Dir/scr: Marcelo Laffitte. Brazil. 2010. 105mins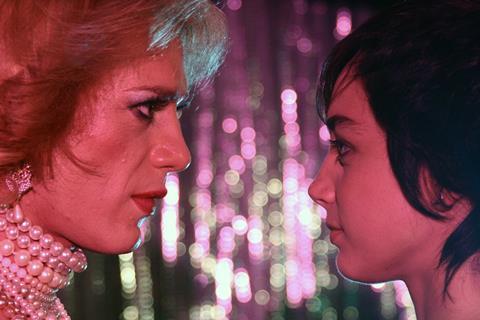 The good-natured motto of Elvis & Madona is "transvestites united will never be defeated", which pretty gives you a good idea of the tone of the film….a playful - though painfully obvious - tale of mis-matched love, extortion and drag queens.
It is all rather simplistic, but the lead performances by Simone Spoladore and Igor Cotrim are engaging enough and it is breezy and frothy as writer/director Marcelo Laffitte tries to blend comedy, drama and a few drag performances. It is a film, though, unlikely to get much play outside Brazil and a few niche festivals.
Drag performer Madona (Igor Cotrim) – real name Adailton – is beaten up and robbed by Joao (Sergio Bazerra), a sometime lover. Elvis (Simone Spoladore) is a would-be photographer moonlighting as a motorcycle pizza delivery rider – she drops a pizza off at Madona's flat and finds herself drawn to the larger-than-life performer.
So before we know it the girl-favouring Elvis starts a sexual relationship with the usually man-favouring drag queen, which develops into a full-on relationship (Madona even tries to play the man for a dinner with her father) and even – yes, the expected cliché – a pregnancy.
Simone Spoladore has a certain feisty charm as the pizza-delivering biker, and while Igor Cotrim is engaging as Madona, the actual drag performances are less than convincing.
Production company: Laffilmes Cinematofica, Focus Films
Producers: Marcello Laffitte, Tuinho Schwartz, Sara Silveira
Cinematography: Uli Burtin
Editor: Luiz Guimaraes de Castro
Music: Victor Biglione
Main cast: Simone Spoladore, Igor Cotrim, Sergio Bazerra