Dir: Denis Villeneuve. Canada-Spain. 2013. 90mins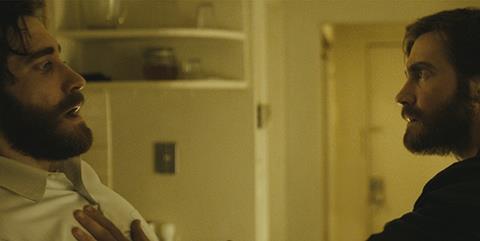 A marvelously mystifying riff on José Saramago's The Double—itself inspired by the classic fable of the doppleganger—Enemy is a slow-burning metaphysical thriller that stays one step ahead of its audience. Though slim on story and slight on character, Quebecois filmmaker Denis Villeneuve (Incendies) has crafted a minimalist head-scratcher that stands in clever counterpoint to his bigger Hollywood thriller, Prisoners. If the director's 2013 Warner Bros high-suspense drama has drawn comparisons to Mystic River and Zodiac, this smaller exercise comes across as a mix of Franz Kafka and The Twilight Zone.
Lending his captivating screen presence to every scene, a bearded, intense Gyllenhaal capably plays the two very different men at the centre of the story.
The movie's deliberately enigmatic aspects may scare off mainstream audiences, but as a technically proficient genre-inflected piece, Enemy should be intriguing enough to pull in sophisticated audiences around the world.
Fresh off their Prisoners collaboration, Jake Gyllenhaal stars in the film as Adam Bell, a slightly disheveled Toronto professor, who lectures about control, dictatorships and the repetitive nature of history. One day, while watching a movie called Where There's a Will There's A Way on his computer, he notices an actor in the background who looks exactly like himself. Propelled by curiosity or some unstated darker fascination for what might come, Bell seeks out the actor. He eventually discovers he's another Torontoan, named Anthony Claire, who lives in a similarly non-descript high-rise apartment with his pregnant wife.
What follows is a strange, almost surreal tete-a-tete between the two identical men, with wife and girlfriend caught in the middle. It's not clear why the situation, while admittedly uncanny and a bit unsettling, spurs such trepidation and fear in the characters: Adam appears shaken to the core, while Anthony's wife (Sarah Gadon) breaks down in tears. Perhaps they know something we don't know.
Given the number of unexplained details in the film—Anthony takes part in some weird underground sex club; monstrous spiders show up as a recurrent motif—Villeneuve and his Spanish screenwriter Javier Gullón seem to like it that way, infusing the film with an underlying sense of mystery and tension they have no intention of defusing.
Villeneuve skillfully accomplishes this task with every tool at his disposal. Filmed in a yellowish gray color palette and set among Toronto's most unattractive concrete towers and parking lots, the city looks and feels like a sickly urban wasteland. Further adding to the movie's overall feeling of unease is a prominent, audacious score by multi-instrumentalists Saunder Stenfert Jurriaans and Daniel Charles Bensi (Martha Marcy May Marlene), which keeps the movie bounding along even though little may be happening.
Lending his captivating screen presence to every scene, a bearded, intense Gyllenhaal capably plays the two very different men at the centre of the story—the stuttering, shuffling history professor and the motorcycle-riding masculine actor. And the film playfully switches back and forth between the two, where at certain points, it's unclear which is which. Indeed, it's rare to find a movie these days that so boldly withholds from its audience and defies their expectations. While some may be frustrated by this obfuscation, others will find it inspired.
Production Companies: Rhombus Media Inc., micro_scope, Mecanismo Films, Roxbury Pictures
International Sales: Pathé International, www.patheinternational.com
Producers: Niv Fichman, Miguel A. Faura
Executive Producers: François Ivernel, Cameron McCracken, Mark Slone, Victor Loewy
Screenplay: Javier Gullón
Cinematography: Nicolas Bolduc
Editor: Matt Hannam
Production designer: Patrice Vermette
Music: Danny Bensi, Saunder Jurriaans
Main cast: Jake Gyllenhaal, Mélanie Laurent, Sarah Gadon, Isabella Rossellini