Dir/scr: Amir Manor. Israel. 2012. 96mins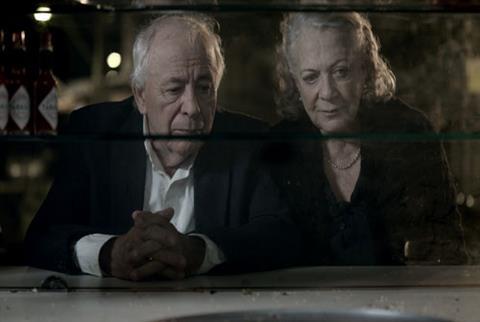 Since Michael Haneke got the Palm d'Or for Amour, old age is turning out to be one of the favorite flavors of this summer. Every single festival since has had his own version of it, and Amir Manor's debut film Epilogue (Hayuta and Berl), a mournful litany for a couple of octogenarians preparing for what it will turn out to be their last day on earth, fits perfectly into this slot.
And if some of the references are definitely local, pointedly suggesting the decadence in Israel's moral fabric, the essence is no doubt universal.
A moving, but Inevitably dark and painful, portrait of a generation's end, and with it everything it once represented, Manor's film targets a narrow but well defined audience, that will most probably welcome the film's sentimentality, though it does go overboard every once in a while.
Berl (Yosef Carmon) and Hayuta (Rivka Gur), live in a cluttered flat packed with useless relics of their youth, in one of Tel Aviv's old, and today least attractive neighborhoods. They are both over 80 and have one son who has left for New York…and Berl won't talk to him for having done it.
Their only source of income is the insultingly meager Social Security pension, their health and fitness has the same limitations that are to be expected in people of their age, and they refuse to adjust to a world that has trampled under its feet every notion they had believed in. Starting the day they are dealt by a young, efficient and politely apologetic agent of the Social Security on a routine visit to check their physical and mental condition and they will have to submit to a series of further iniquities as they proceed through the day.
A loudmouth radio show moderator treats Berl as an old codger and snarls at his old-fashioned, romantic notions of socialism when he complains about the state of society today and proposes a popular movement to restore some of the morale. He has to steal the neighbor's morning papers, since he cannot afford to buy his own while Hayuta can't pay for the prescriptions at the pharmacy and has to leave most of them behind. She does her "shopping" late in the afternoon, picking the vegetables left for the poor on the market and she calls her son in New York collect, from a public phone, to hear his voice and goes home to find Berl in darkness, after burning the fuses while he clumsily tried to fix the TV set.
Bereft of all the loftier advantages associated with old age, such as serenity, wisdom or experience, this Epilogue leaves very little room for consolation. Disappointed and powerless, Hayuta and Berl refuse to be tolerated as unnecessary, irrelevant burdens, but they are left no choice. Manor, whose script was inspired by the death of his grandparents a few years back, could have done with less explicit dialogue towards the end - the images do a better job than all the words - but he has found in Carmon and Gur ideal interpreters and with the help of Guy Raz's sensitive camera, he manages to paint not only a sad and desolate social phenomenon, but a touching, poetical one as well.
Production company: Norma Productions
International sales: Urban Distribution International, www.urbandistrib.com
Producer: Assaf Amir
Cinematography: Guy Raz
Editor: Iris Ozer
Production designer: Rotem Cohen. Barak Vazan
Music: Ruth Dolores Weiss
Cast: Yosef Carmon, Rivka Gur, Efdrat Ben-Zur, Itay Turgeman, Shai Avivi, Nathan Zahavi (voice), Yarom Borvinsky, Hagar Ben Asher