Dir/scr: Ana Piterbarg. Argentina. 2012. 118mins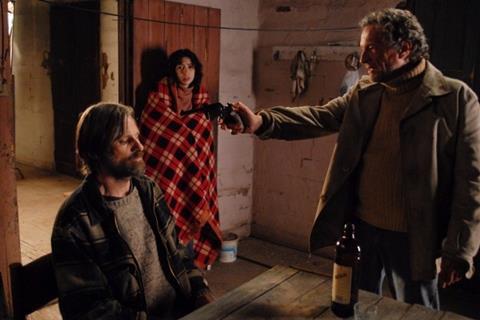 Viggo Mortensen's trademark quiet strength and enigmatic stillness works to impressive effect in Ana Piterbarg's moody and evocative drama Everybody Has A Plan (Todos Tenemos Un Plan), largely set against backdrop of Argentina's tough and isolated the Tigre Delta, a labyrinthine tangle of islands and waterways which has its own codes and sense of justice.
Mortensen's rugged charisma fits perfectly playing two men who say little but are still driven and determined.
He gets to play twin brothers – and what actor doesn't love playing twins – whose gradually revealed past comes to haunt them. As he proved in 2006's Alatriste, Mortensen's Spanish – he lived in Argentina for a while as a youngster - is more than up to the job (there is no English spoken here) and he is perfect fit when it comes to playing the gloomy, unhappy brothers, both looking for some sort of escape.
Mortenssen's presence should help the film's international profile and handled properly the film should be solid performer in Spanish speaking territories and on the festival circuit.
As the title suggests, this is a film where all of the lead characters 'have a plan'…or at the very least are forced by circumstances to have to make hard decisions and head off on difficult journeys.
In Buenos Aires, Agustín (Mortensen) leads a comfortable life as a doctor, and is married to a busy and successful Claudia (Soledad Villamil). But he is depressed and restless, and when his wife wants to adopt a child he – very gently – snaps and refuses to leave his locked study. His wife goes away on business, but the next day his identical twin brother Pedro (also Mortensen) arrives on an unexpected visit.
Pedro announces that he has a terminal illness…and in a sudden decision, Agustín opts to seize the chance to start his life again, and takes Pedro's identity and travels to the Tigre Delta, where Pedro lives and where the two brothers spent their youth.
Once a secluded weekend paradise for the wealthy of Buenos Aires, the region now plays host to backwater criminal types, brimming with outcasts, refugees, and ex-convicts, and Agustín finds himself embroiled in Pedro's criminal past, and inheriting the vendettas of old, murderous acquaintances.
As Pedro he inherits his brother's hives and honey operation and finds himself drawn to young and attractive Rosa (Sofía Gala Castaglione), but comes to realise that Pedro is involved in a kidnapping plot and is allied with the brutal bible-reading Adrian (Daniel Fanego), who had grown up on the islands, knew the brothers as children and works to his own code of conduct.
Beautifully shot by Lucio Bonelli, who gives the backwaters a sense of shimmer beauty and danger, the film is nicely constructed by debut writer/director Ana Piterbarg who layers in gentle twists and turns and keeps the story suspenseful as her lead characters have to make tough decisions as they try to live out their plans.
Mortensen's rugged charisma fits perfectly playing two men who say little but are still driven and determined. Still waters do certainly run deep, and if the decisions take byAgustín or Pedro are not often morally palatable. Though at heart Everybody Has A Plan is an old-fashioned crime film, it is driven more by characters than by incident or actions, and as such is packed with intriguing personalities facing tough decisions in an attempt to find the right life for them.
Production companies: Haddock Films, Tornasol Films, Castafiore Flms, Terz FilmProduktion, Fox International Productions
International sales: Fox International Productions
Producers: Mariela Besuievsky, Viggo Mortensen, Gerardo Herrero, Vanessa Ragone
Executive producers: Mariela Besuievsky, Vanessa Ragone
Co-producer: Christophe Friedel
Cinematography: Lucio Bonelli
Editors: Irene Blecua, Alejandro Lazaro
Production designer: Mariela Ripodas
Music: Lucio Godoy, Federico Jusid
Main cast: Viggo Mortensen, Soledad Villamil, Daniel Fanego, Javier Godino, Sofía Gala Castaglione