Dir: Benjamin Epps. US. 2013. 96mins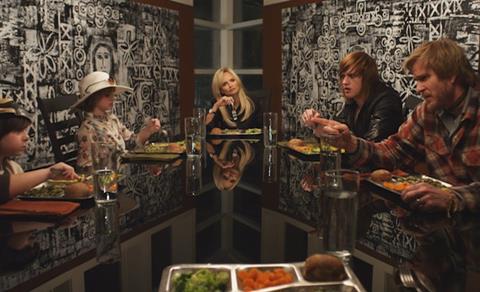 An enjoyably leftfield oddball comedy, Family Weekend features a standout performance by Olesya Rulin (from the High School Musical series) as a determined and focussed 16-year-old so frustrated by her parents less-than-perfect parenting skills that she resorts to extreme measures.
The film works hard – and perhaps tries just too hard – to rack up the oddball level of wackiness.
The usual school teen films content themselves with the dynamics between students, but Benjamin Epps' film heads off in a rather different direction as our competitive heroine decides to hold her parents hostage and start re-educating them on how they should be looking after her and her three siblings. Though haphazard in terms of delivering its comedy content, Family Weekend is watchable at times, though perhaps unlikely to travel theatrically to most territories beyond the US.
Emily takes part in a series of speed-jump-roping competitions at her high school – she is fiercely dedicated despite her classmates teasing her – but her family pay little attention to her activities. Her mother, Samantha (Kristen Chenoweth), is a career-focused business executive, while her father Duncan (Matthew Modine), is a painter stuck in a creative rut. Emily and her three siblings (Eddie Hassell, Robbie Tucker and Chloe Bridges) keep on trying to get their parents' attention, but little works.
Deciding to take a rather extreme option, she decides the only option is to tie up her parents and start up a little re-education programme in the hope she can convince them to be more affectionate and supportive.
The film works hard – and perhaps tries just too hard – to rack up the oddball level of wackiness. Her arch-nemesis, popular girl, Kat (Chloe Bridges) is her mirror image and starts to suspect what is going on, and while Emily starts to form some sort of different relationship with her parents, the twist never quite convinces. Matthew Modine delivers a typically bland performance, while Kristen Chenoweth's mother at least seems to have a bond with her daughter.
But the film's find is Olesya Rulin, who, despite being a tad too old to play a 16-year-old, gives the film its heart and energy. She played Kelsi Nielsen in three High School Musical films as well as featuring in TV series Greek, and is perfect as the oddly obsessive girl who has the smarts and the determination to try and sort out her parents.
Production companies: Footprint Pictures, The Bedford Falls Company
International sales: Uppercut Pictures, www.uppercutpictures.com
Producers: Chris Aronoff, Adam Saunders
Executive producers: Gary R Benz, Youmi N Ma, Todd Olsson
Co-producers: Ron Dignam, Benjamin Epps, Peter Gail, Valorie Massalas
Screenplay: Matt K Turner
Cinematography: Chris Norr
Editor: Colleen Halsey
Production designer: Manuel Perez Pena
Music: Russ Howard III, Mateo Messina
Main cast: Kristin Chenoweth, Matthew Modine, Olesya Rulin, Joey King, Shirley Jones, Eddie Hassell, Adam Saunders