Screendaily reports from the pitching session of the sixth Frontières International Co-Production Market at Fantasia.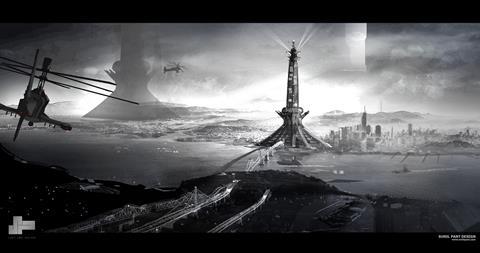 There are not many places where you can be introduced to nursing home zombies, a twisted video game designer and cannibal pig farmers in one morning, but that's the joy of the Frontières International Co-Production Market.
Now in its fourth year (and sixth edition), the market kicked off on Thursday, returning to Fantasia International Film Festival following a successful second European edition at Brussels International Fantastic Film Festival.
3½
Sci-fi romance 3½ kicked off this edition's expanded pitch session and was described by producer Michael Roiff of Night & Day Pictures (Waitress, In Your Eyes) as a "low-budget indie with high-budget aspirations".
Set to be an Indian-US co-production, it will be directed by Sooni Taraporevala (who also wrote the script) and already has Irrfan Khan and The Big Bang Theory's Kunal Nayyar attached to the cast.
The Lunchbox writer-director Ritesh Batra will serve as executive producer on the film, which will take place across present-day and futuristic Mumbai, following a woman who struggles to be with the only man she has ever loved.
The pitch saw Roiff showcase some of the film's concept art (pictured) of the view from the film's futuristic slums.
Elora's Death Wish
Taking a step back into the past was Elora's Death Wish, the latest project from Turbo Kid filmmakers RKSS (Anouk Whissell, François Simard and Yoann-Karl Whissell), which they described as "Leon meets Commando on LSD".
Set in 1994, the film centres on a young woman who seeks revenge for the brutal murder of her family 13 years earlier, along with the help of her favourite childhood action hero (and imaginary friend) Colonel Hawk.
Like Turbo Kid, Elora's Death Wish will be produced by EMAfilms' partners Anne-Marie Gélinas and Benoit Beaulieu. It was inspired by a 2007 short by RKSS called Total Fury and will look to subvert genre expectations by "shifting from a realistic revenge movie into an over-the-top 80s action film," according to Anouk Whissell.
Yoann-Karl Whissell animatedly treated the Frontières crowd to a run-through of the film's opening sequence, which will involve a shotgun hidden inside a stuffed panda toy.
El Gigante
Promising to be similarly gory and crowd-pleasing is El Gigante from Canada's Luchagore Productions, adapted from a short that plays at this year's Fantasia.
Directed by Gigi Saul Guerrero, it follows a documentary filmmaker who, when investigating the disappearance of illegal immigrants, stumbles upon a cannibalistic family. Their eldest son (the titular character) is a homicidal luchador who batters his victims in a makeshift wrestling ring before slaughtering them.
Guerrero commented: "This is a dirty and grimy story, and the audience should feel this way after viewing. We aim to smack the viewers in the face: they should be shocked, terrified and fearful for the outcome of the protagonists."
At the market, Raven Banner picked up El Gigante for worldwide sales (see separate story here).
Butcher Shop
On a lighter note, writer-directors Lydelle Jackson and Cezil Reed's Butcher Shop follows Octavius Bean, a jovial butcher who kills people while dancing flamboyantly to dance music.
The entertaining pitch, which kicked off with a rendition of Daft Punk's 'Get Lucky', featured a series of mock interviews of praise from the townspeople of the peaceful community where Octavius lives. Pollyanna McIntosh (Filth, The Woman) and Bel Deliá (The Tunnel Movie) are attached to star.
Jackson noted that the film will look to shoot in Scotland, potentially in small villages like Dingwall or Portpatrick, which have a "timeless European quality that will allow Butcher Shop to have its own identity amongst the many horror films out there".
The pitch also unveiled the striking concept poster [pictured].
Common ground
This edition's selection also featured two projects adapted from existing material. John McNaughton (Henry: Portrait Of A Serial Killer) was influenced by his history of working in a carnival in choosing to adapt Robert Edmon Alter's Carny Kill, while Huan Vu's dark fantasy The Dreamlands will be the first-ever adaptation of H.P. Lovecraft's Dream Cycle series.
Also based on existing material will be Enric Folch's documentary The Devil On Wheels, which looks at the cult following of Steven Spielberg's Duel and explores the power of films on people.
Other common threads included different visions of the near-future in Nick Parish's sci-fi The Existence Of Liberty White, Thijs Meuwese and Colinda Bongers' action title Kill Mode and Domante Urmanaite's Pill #1618. Both Liberty White and Pill #1618 deal with the concept of being able to switch minds with other people, one for pleasure and one for personal gain.
Speaking to Screendaily, market director Lindsay Peters commented: "We are absolutely thrilled with this year's line-up of projects here at Fantasia, which hit all corners of the genre spectrum and most notably included a stronger female presence than ever before."
Friday also saw panels on shooting in Québec featuring director Érik Canuel, producer Pierre Even and Marie-Josée Pilon of the Laurentian Film Commission; and a Turbo Kid case study moderated by executive producer Stéphanie Trépanier that featured RKSS, EMAfilms' Anne-Marie Gélinas, Epic Pictures' Patrick Ewald and Shaked Berenson, Filmoption International's Andrew Noble and Raven Banner's James Fler and Michael Paszt.